10:40am: The Wizards have officially announced Gafford's extension, confirming the move in a press release.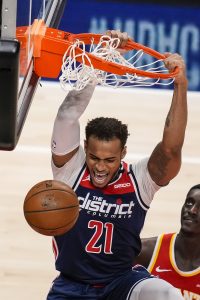 "We're very excited to extend Daniel's contract and continue to see him develop within our system after his athleticism on both ends of the floor made such an immediate impact for us last season," GM Tommy Sheppard said in a statement. "We are confident that he has the character and drive to keep working hard to improve his overall game and become an even bigger part of what we are building with our team."
---
5:49am: The Wizards and big man Daniel Gafford agreed to a three-year contract extension late on Monday night, according to Shams Charania of The Athletic (Twitter link), who reports that Gafford's new contract will be worth $40.2MM.
Gafford, the 38th overall pick in the 2019 draft, spent the first year-and-a-half of his NBA career with the Bulls and played a modest role for the club, averaging 5.0 PPG, 2.8 RPG, and 1.2 BPG in 74 contests (13.4 MPG). He was sent to the Wizards in a three-team deal at the 2021 trade deadline.
In D.C., Gafford enjoyed a mini-breakout in 23 games down the stretch, putting up 10.1 PPG, 5.6 RPG, and 1.8 BPG in just 17.7 minutes per contest. Although the Wizards acquired Montrezl Harrell in the offseason and will be getting Thomas Bryant back from his ACL tear this winter, the team envisions the athletic Gafford playing a key rotation role at the five.
Gafford's minimum-salary contract pays him approximately $1.78MM this season and includes a $1.93MM team option for the 2022/23 season. According to Charania (Twitter link), the new deal will run through the '25/26 season, which suggests Gafford's option for next season is being exercised as part of the agreement, with the new deal going into effect in '23/24.
Monday was the last day for extension-eligible players with multiple years left on their current deals to sign new contracts. Since Gafford's option is being picked up, he fits that bill, which is why he and the Wizards had to beat the clock late last night. If they hadn't finalized an extension on Monday, Gafford wouldn't have been eligible to sign a new contract until the 2022 offseason.
A player signing a veteran contract extension is typically eligible to receive up to a 20% raise on the salary in the final year of his current contract. However, someone like Gafford, who is earning a smaller salary, can sign an extension that starts at up to 20% of the NBA's "estimated average salary" in the year which the extension is signed. This year's estimated average salary is $10.335MM, so a 20% bump to that figure would get Gafford a starting salary of about $12.4MM and a three-year total in excess of $40MM, assuming 8% annual raises.