Hoops Rumors is breaking down the 2021 offseason for all 30 NBA teams, revisiting the summer's free agent signings, trades, draft picks, departures, and more. We'll evaluate each team's offseason moves and look ahead to what the 2021/22 season holds for all 30 franchises. Today, we're focusing on the Washington Wizards.
---
Free agent signings:
Note: Exhibit 9 and 10 deals aren't included here.
Spencer Dinwiddie: Three years, $54MM. Third year partially guaranteed. Includes $7,714,284 in unlikely incentives. Acquired via sign-and-trade.
Raul Neto: One year, minimum salary. Re-signed using minimum salary exception.
Cassius Winston: Two-way contract. Accepted two-way qualifying offer as restricted free agent.
Trades:
Acquired Spencer Dinwiddie (sign-and-trade; from Nets), Kyle Kuzma (from Lakers), Kentavious Caldwell-Pope (from Lakers), Montrezl Harrell (from Lakers), Aaron Holiday (from Pacers), the draft rights to Isaiah Todd (No. 31 pick; from Pacers), and cash ($1MM; from Pacers) in a five-team trade in exchange for Russell Westbrook (to Lakers), Chandler Hutchison (to Spurs), either the Bulls', the Lakers', or the Pistons' 2022 second-round pick (whichever is most favorable; to Spurs), the Bulls' 2023 second-round pick (to Lakers), either the Wizards' or the Grizzlies' 2024 second-round pick (whichever is most favorable; to Nets), either the Wizards' or Grizzlies' 2024 second-round pick (whichever is least favorable; to Lakers), the right to swap the Warriors' 2025 second-round pick for the Wizards' 2025 second-round pick (to Nets), and the Wizards' 2028 second-round pick (to Lakers).
Draft picks:
1-15: Corey Kispert

Signed to rookie scale contract (four years, $16,364,407).

2-31: Isaiah Todd

Signed to four-year, $6.89MM contract. Fourth-year team option. Signed using non-taxpayer mid-level exception.
Waiver claims:
Contract extensions:
Daniel Gafford: Three years, $40,182,480 (story). Team option for 2022/23 exercised as part of deal. Starts in 2023/24.
Departing players:
Chandler Hutchison
Russell Westbrook
Other offseason news:
Hired Wes Unsled Jr. as head coach to replace Scott Brooks.
Hired Mike Miller, Joseph Blair, Pat Delany, and Zach Guthrie as assistant coaches; lost assistant coaches Mike Longabardi, Corey Gaines, Robert Pack, Tony Brown, and Mike Terpstra.
Thomas Bryant continues to recover from ACL surgery and will be sidelined until at least December.
Rui Hachimura was absent from training camp for personal reasons and remains sidelined for the start of the season.
Salary cap situation:
Remained over the cap and below the tax line.
Carrying approximately $134.7MM in salary.
Hard-capped at $143MM.
$8,036,000 of non-taxpayer mid-level exception still available ($1.5MM used on Isaiah Todd).
Full bi-annual exception ($3,732,000) still available.
One traded player exception ($2,161,920) available.
---
The Wizards' offseason:
With Bradley Beal and Russell Westbrook on maximum-salary contracts and Davis Bertans earning $16MM per year, it was difficult to see how the Wizards would be able to make meaningful upgrades to their roster entering the 2021 offseason. They had limited financial flexibility to pursue free agents with all three players on the books, but they had no interest in moving Beal, and Westbrook's and Bertans' pricey salaries made them mediocre trade chips.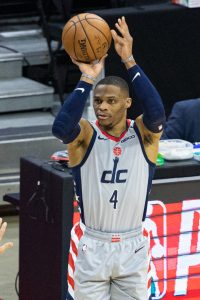 So when Westbrook approached the team with a request to be sent to the Lakers, it was something of a blessing in disguise.
It's generally considered a disaster for a team if a star player requests a trade, and the Wizards likely would've felt that way if Beal had asked out. But as impressive as Westbrook was down the stretch last season when he helped lead the team to a playoff spot, a roster headlined by him and Beal almost certainly didn't have championship upside.
Westbrook's unwieldy contract (he was owed nearly $92MM over two years) also reduced his value — the Wizards likely would've had trouble getting fair value from any team besides the Lakers. Knowing LeBron James and Anthony Davis supported the move, L.A. was willing to meet Washington's asking price. So, rather than having to try to figure out how to add a third impact player to complement their All-Star backcourt, the Wizards were able to load up on reliable role players when they dealt Westbrook to Los Angeles.
Trading a star for a handful of rotation players is another outcome that an NBA team typically tries to avoid, but it made sense for the Wizards. Last year's roster was short on depth, and turning Westbrook's $44MM cap hit into several mid-sized salaries will give the team more options on the trade market if Montrezl Harrell, Kentavious Caldwell-Pope, and/or Kyle Kuzma need to be flipped down the road.
The deal with the Lakers also netted the Wizards a first-round pick, which they flipped to Indiana in exchange for point guard Aaron Holiday and the No. 31 overall pick that became Isaiah Todd. The move allowed Washington to add more veteran depth while also taking a flier on a young prospect with some upside.
Neither Holiday nor the re-signed Raul Neto could be relied upon to take Westbrook's place as the starting point guard, however, so the Wizards went shopping in free agency. Even after shedding Westbrook's salary, Washington didn't have the cap room necessary to offer more than the mid-level, but when Spencer Dinwiddie zeroed in on the idea of becoming a Wizard, the front office got creative to make it work.
Without the ability to sign Dinwiddie outright, the Wizards folded his three-year, $54MM+ deal into the agreed-upon (but not yet finalized) Westbrook and Holiday trades, negotiating sign-and-trade terms with the Nets.
When the dust settled, five teams were involved in the mega-deal, which cost the Wizards several future draft assets. In order to complete the Westbrook swap, entice the Nets to accommodate the sign-and-trade, and dump Chandler Hutchison's salary onto the Spurs, Washington surrendered five second-round picks and a second-round pick swap. Still, it was a win for the Wizards to be able to replace Westbrook with Dinwiddie, four solid (and reasonably priced) rotation players, and a promising rookie without giving up a first-round pick.
That five-team trade encompassed most of the Wizards' major offseason moves, but there were a few others worth noting. The club used its own first-round pick to add some shooting, selecting Gonzaga's Corey Kispert with the No. 15 overall selection. Kispert played four college seasons and was viewed as one of the draft's most NBA-ready prospects, though he has gotten off to a slow start this fall.
The Wizards also locked up center Daniel Gafford to a long-term contract, picking up his minimum-salary team option for 2022/23 and then tacking three more years onto his deal. Washington's depth chart at center is relatively crowded, with Gafford, Harrell, and Thomas Bryant (who is still recovery from ACL surgery) all in the mix, so that extension is a nice vote of confidence for Gafford, who was acquired at least season's deadline and played well in D.C. down the stretch.
The Wizards also made a head coaching change, parting ways with Scott Brooks after five years and hiring Wes Unseld Jr. as his replacement. Unseld's father is a franchise legend who won a championship with Washington as a player and later served as both a front office executive and head coach. However, hiring his son wasn't just a sentimental move by the Wizards — the younger Unseld paid his dues as an assistant coach for four NBA teams over the course of 16 seasons, earning the opportunity to finally lead his own team.
---
The Wizards' season:
The Wizards' offseason moves diversified the team's offensive attack and improved its defensive personnel. The team lacks star power – it's hard to imagine anyone on the roster besides Beal making an All-Star team – buts its newfound depth makes it a more well-rounded group than we've seen in D.C. for the last few years.
As much as I liked Washington's offseason, I still don't view the club as a legitimate contender to come out of the East this season. Still, the early returns have been good — Unseld's squad has an 8-3 record, tied for the top mark in the conference.
They'll almost certainly slide down the standings a little as the season progresses, but these Wizards appear capable of at least repeating last year's result (making the playoffs via the play-in tournament), and general manager Tommy Sheppard has more flexibility to make roster moves going forward without Westbrook's massive cap figure on the books.
---
Salary information from Basketball Insiders and Spotrac was used in the creation of this post.