Saturday, January 15 was the last day that a team could apply for a disabled player exception during the 2021/22 NBA league year.
A disabled player exception can be granted when a team has a player go down with an injury deemed to be season-ending (with the player more likely than not to be sidelined through June 15). The cap exception doesn't open up an extra roster spot, but it gives the club some additional spending flexibility, functioning almost as a cross between a traded player exception and a mid-level exception.
We go into more detail on who qualifies for disabled player exceptions and how exactly they work in our glossary entry on the subject. But essentially, a DPE gives a team the opportunity to add an injury replacement by either signing a player to a one-year contract, trading for a player in the final year of his contract, or placing a waiver claim on a player in the final year of his contract.
Because the rules relating to disable player exceptions are somewhat restrictive and the exceptions themselves usually aren't worth a lot, they often simply expire without being used. Still, it's worth keeping an eye on which disabled player exceptions have been granted, just in case.
---
Confirmed disabled player exceptions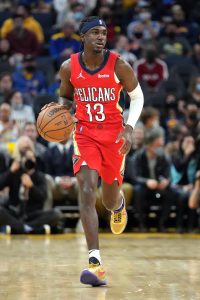 Based on reports to date, we only know of one application for a disabled player exception that has been approved this season. The Pelicans, as a result of Kira Lewis' season-ending ACL injury, were granted a disabled player exception worth $1,911,120.
There are usually a handful of DPEs handed out in a given season, and it's still possible that more applications made by January 15 will be approved in the coming days. For now though, New Orleans' DPE is the only one that has been confirmed.
---
Disabled player exception requests that have been denied
There are multiple reasons why an application for a disabled player exception might be turned down. One is that a league-appointed physician determines the injured player is unlikely to be sidelined through June 15.
That's what happened to the Bulls, who requested a DPE in response to Patrick Williams' wrist injury, but were denied. Chicago hasn't ruled out the possibility that Williams could return in the spring, so it makes sense that the team didn't receive the DPE it sought.
The Pacers, meanwhile, applied for a disabled player exception after Edmond Sumner tore his Achilles in September. However, Indiana traded away Sumner just a few weeks later, with no indication that their DPE request had been approved in the interim.
When a team requests a DPE, the injured player must remain on its roster from the time the application is submitted until the time it's approved. If Indiana traded Sumner before a decision was finalized, the DPE request essentially would've been voided. We're assuming that's what happened.
---
Other DPE candidates to watch
Although the deadline to apply for a disabled player exception has passed, it's possible a team submitted an application by Saturday and it just hasn't been reported. For instance, I'd be surprised if the Cavaliers didn't request a DPE at some point following Ricky Rubio's season-ending ACL tear. If approved, it would be worth $8.9MM.
There aren't a ton of other obvious candidates. It's possible that players like Kawhi Leonard, Damian Lillard, Michael Porter Jr., and Brook Lopez won't return this season, but at this point, we can't consider them "likely" to be sidelined through June 15.
The same may be true of Cavaliers guard Collin Sexton and Suns forward Dario Saric. Sexton is recovering from November meniscus surgery, while Saric tore his ACL last July.
Solomon Hill is expected to miss the rest of the season with a torn hamstring, but he was just traded from Atlanta to New York, and the Knicks weren't eligible to apply for a disabled player exception for a player who wasn't on their roster when he sustained the injury.
Nuggets wing PJ Dozier, who tore his ACL in November, would be a clear-cut DPE candidate, but we haven't heard anything about an application being submitted by Denver. It's possible the team decided it wouldn't be worth it for an exception that would only amount to $955,430.
We'll be keeping an eye out for further news on DPE approvals in the coming weeks, since those exceptions could come in handy at the trade deadline or on the buyout market.