8:00pm: The trade is now official, according to press releases from the Pelicans and Trail Blazers. Portland waived Cody Zeller to create room on their 15-man roster for the incoming players.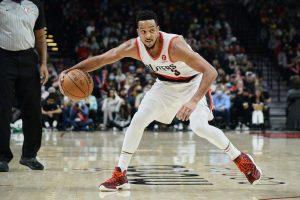 The full deal looks like this:
Pelicans acquire McCollum, Nance, and Snell.
Trail Blazers acquire Hart, Satoransky, Alexander-Walker, Louzada, the Pelicans' protected 2022 first-round pick, the Pelicans' 2027 second-round pick, and either the Pelicans' or Blazers' 2026 second-round pick (whichever is more favorable; New Orleans had previously acquired Portland's 2026 second-rounder).
"On behalf of the Trail Blazers organization, I want to thank CJ McCollum for the integral role he has played in the success of the franchise over the last nine seasons and for his countless acts of service to the Portland community," Blazers GM Joe Cronin said in a statement. "CJ has cemented himself in Trail Blazers history with his elite skill level and memorable moments on the court as well as with the work ethic, professionalism and generosity he displays behind the scenes."
---
10:10am: The Pelicans and Blazers have reached an agreement, according to Wojnarowski (Twitter links), who reports that Larry Nance Jr. and Tony Snell are also headed to New Orleans in the deal, with Didi Louzada going to Portland.
The Blazers will receive a future first-round pick and two future second-rounder, Wojnarowski adds (via Twitter). As Woj explains (via Twitter), the Blazers will get New Orleans' 2022 first-round selection if it lands between No. 5 and No. 14. Otherwise, the Blazers will receive a future first-rounder. That Pelicans pick currently projects to be No. 9.
The inclusion of Nance, who has been out for the last month with a knee injury, will give the Pelicans another versatile two-way contributor in the frontcourt while clearing even more multiyear money off the Blazers' books. The Pels will presumably acquire Nance and his $10.7MM cap hit using a portion of their $17MM trade exception. Nance is under contract for $9.7MM in 2022/23.
Because the Blazers have a full roster, they'll have to trade or waive a player to accommodate the three-for-four swap.
---
9:24am: The Pelicans and Trail Blazers are finalizing a deal that will send CJ McCollum to New Orleans, sources tell Shams Charania of The Athletic (Twitter link).
The package for McCollum will include Josh Hart, Tomas Satoransky, Nickeil Alexander-Walker, and draft compensation, per Charania (Twitter link).
According to ESPN's Adrian Wojnarowski, who first reported that the two sides were engaged in serious talks, an agreement technically hasn't been finalized yet and there's still work to be done, but Woj says there's optimism a deal will be completed (Twitter link).
McCollum, 30, has been a Blazer since entering the NBA in 2013, making up one-half of the team's star backcourt alongside Damian Lillard. Portland made the postseason in each of McCollum's first eight NBA seasons and got as far as the Western Conference Finals in 2019, but the team has taken a step back this year and is clearly in retooling mode, having sent Norman Powell and Robert Covington to the Clippers last Friday.
Trading McCollum will create more future financial flexibility for the Blazers, who are reportedly interested in re-signing free-agents-to-be Anfernee Simons and Jusuf Nurkic this offseason. Based on the team's moves so far, it appears Portland views those players, along with Lillard and Nassir Little, as keepers going forward, though there's still time for things to change in the 48+ hours before Thursday's trade deadline.
While we'll have to wait to see what sort of draft compensation is headed from New Orleans to Portland in the trade, the Blazers did well to acquire a solid two-way player like Hart, and they'll get a chance to take a flier on Alexander-Walker, who has struggled in 2021/22 after a promising sophomore performance last season.
The Pelicans, meanwhile, are on the verge of adding a talented shot creator to their backcourt as they continue their push for a playoff spot in the Western Conference. New Orleans currently leads Portland by a half-game for the No. 10 seed in the West.
McCollum has been hampered this season by health issues, including a collapsed lung, and his numbers have dipped a little as a result, but he's still averaging 20.5 PPG and 4.5 APG on .436/.384/.706 shooting in 36 games (35.2 MPG).
McCollum, Brandon Ingram, and Jonas Valanciunas will be the go-to offensive options in New Orleans for the time being. The Pelicans are also hoping to get Zion Williamson back in their lineup at some point in the second half, though it's been a while since we've gotten an update on Williamson's recovery from foot surgery.
McCollum is owed $30.9MM this season, $33.3MM in 2022/23, and $35.8MM in '23/24 before becoming eligible for unrestricted free agency in 2024. Hart's contract is more team-friendly — after earning $12MM this season, he has a $13MM non-guaranteed salary next season, with a $13MM player option (also non-guaranteed) for '23/24.
Satoransky has an expiring $10MM contract, while Alexander-Walker is earning $3.3MM this season. Alexander-Walker is under contract for $5MM in 2022/23 and will be eligible this offseason for a rookie scale extension. He'll be a restricted free agent in 2023 if he doesn't sign a new deal later this year.
The Hawks, Knicks, and Pacers were among the other teams said to have trade interest in McCollum.