JULY 6: The Pelicans have signed Zeller, according to an official announcement from the team.
---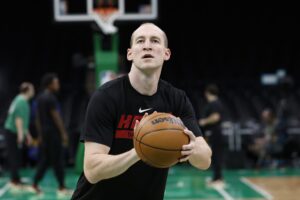 JULY 2: The Pelicans are signing free agent center Cody Zeller to a one-year, $3.1MM contract, agent Sam Goldfeder tells Adrian Wojnarowski of ESPN (Twitter link).
Zeller just completed his 10th season, so he'll be receiving the veteran's minimum for a player with his experience. As our minimum-salary projections for 2023/24 show, he'll actually be making just under $3.2MM.
The Pelicans chose not to bring back Willy Hernangomez or Jaxson Hayes, so Zeller will help fortify the team's frontcourt depth. Hernangomez might be headed back to Europe, where he started his pro career, while Hayes is signing a two-year deal with the Lakers.
Zeller, 30, was the fourth overall pick of the 2013 draft after two college seasons at Indiana. He spent his first eight NBA seasons with Charlotte, averaging a combined 8.7 PPG and 6.0 RPG over 467 contests (22.7 MPG).
The 6'11" big man spent the past two seasons with Portland and Miami, respectively. He was a mid-season addition in '22/23 for the Heat, who went on to make the NBA Finals as the East's No. 8 seed.
Zeller averaged 6.5 PPG and 4.3 RPG in 15 regular season games for the Heat (14.5 MPG). He appeared in 21 of the club's 23 postseason games, though his minutes were reduced to 8.3 per night.
The addition of Zeller means, at least for now, that the Pelicans will be above the '23/24 luxury tax threshold, tweets Christian Clark of NOLA.com. A cost-cutting move could be in store to dip under the tax line.