9:00pm: The trade is now official, the Pacers announced in a press release.
---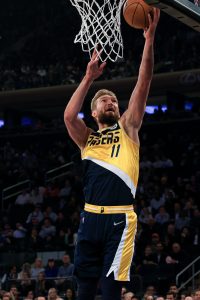 4:36pm: The second-rounder being sent to Sacramento in the deal is actually a 2023 pick that will be convey if it lands anywhere from 31-55, per Sam Amick of The Athletic (Twitter links).
---
12:37pm: The Pacers have agreed to send Domantas Sabonis, Jeremy Lamb and Justin Holiday to the Kings in exchange for Tyrese Haliburton, Buddy Hield and Tristan Thompson, reports ESPN's Adrian Wojnarowski.
Sacramento will also receive a 2027 second-round pick in the trade, according to Wojnarowski. That pick will presumably be the Utah selection the Pacers acquired from Cleveland on Monday, since Indiana has traded away its own 2027 second-rounder.
The deal involves two teams that have been trying to shake up their rosters ahead of Thursday's trade deadline. Both are in the middle of disappointing seasons, with the Pacers 13th in the East at 19-36 and the Kings, who were open about their need to make the playoffs heading into the season, stuck at 13th in the West at 20-35, two games out of the final play-in spot.
Sabonis, who was an All-Star in 2020 and 2021, carries a $19.8MM cap hit this season, tweets ESPN's Bobby Marks. As Marks notes, Sabonis' cap figure is expected to eventually drop to $18.5MM this season and $19.4MM next year because his All-Star bonus will be considered unlikely going forward.
Sabonis' production has remained steady at 18.9 points, 12.1 rebounds and 5.0 assists through 47 games, but the Pacers have been looking to break up the combination of Sabonis and Myles Turner.
Lamb has an expiring $10.5MM deal, while Holiday is under contract for $6MM and $6.3MM next season. The Kings will create a $4MM trade exception in the deal, Marks adds.
It's a fascinating deal for the Kings, since reports in recent weeks repeatedly stated they preferred to build around Haliburton and De'Aaron Fox going forward. They relented on Haliburton in order to land a star center and will now move ahead with rookie Davion Mitchell as Fox's potential long-term backcourt partner. It's unclear whether more moves are coming for Sacramento, which still has a frontcourt logjam that includes center Richaun Holmes.
The Pacers, meanwhile, acquire a potential future star in Haliburton, who has emerged as a full-time starter this season and is averaging 14.3 points, 3.9 rebounds and 7.4 assists in 51 games. He will make $4.2MM and $5.8MM over the next two seasons and will be eligible for a rookie scale extension in the summer of 2023.
Indiana also lands Hield, who has a $23.1MM salary this year that will drop to $21.2MM next season and $19.3MM in 2023/24, and Thompson, who has a $9.7MM expiring deal. The Pacers will create a $10.5MM trade exception, according to Marks (Twitter link).
The trade leaves Indiana $615K below the luxury tax line, though Hield has nine bonuses in his contract that could affect that, Marks adds (via Twitter). Two of them are considered likely — fewer than two turnovers per game and finishing in the top 10 in made three-pointers — which would add up to $595,962 and push team salary dangerously close to the threshold. If the Pacers make more deals this week, they'll likely try to trim a little more salary to create additional breathing room below the tax line.
Indiana was said to be seeking a Nikola Vucevic-esque package of several draft picks and/or young prospects in exchange for Sabonis. However, as we noted when we previewed the trade deadline for Central teams last week, the Pacers have historically preferred to acquire packages headlined by promising NBA-ready players rather than draft picks when they've traded away stars. The team first acquired Sabonis along with Victor Oladipo for Paul George in a 2017 blockbuster that was widely panned by experts at the time.
Sabonis and Oladipo both eventually developed into All-Stars in Indiana, and now the Pacers will hope for the same from Haliburton, a potential two-way impact player who is still just 21 years old.