FEBRUARY 7: The Cavaliers have officially acquired LeVert from the Pacers, the team announced today in a press release. The full terms of the deal are outlined below.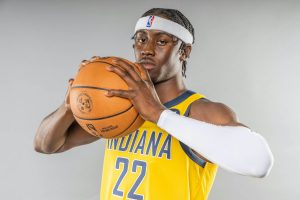 "We are very excited to add a dynamic young player of this caliber and experience," Altman said in a statement. "Caris LeVert fits uniquely into our culture and his Ohio roots brings an immediate connection to our community. We look forward to seeing what type of impact he can make on this roster. We also want to send our best wishes to Ricky Rubio and his family. Ricky has been the consummate professional and his leadership both on and off the court was invaluable and we respect everything he brought to this franchise."
---
FEBRUARY 6: The Cavaliers are acquiring Caris LeVert and Miami's 2022 second-round pick from the Pacers in exchange for Ricky Rubio, Cleveland's 2022 lottery-protected first-round pick, Houston's 2022 second-round pick, and Utah's 2027 second-round pick, according to ESPN's Adrian Wojnarowski (all Twitter links).
LeVert is in Cleveland ahead of Sunday's game between the Pacers and Cavs and was discussing the trade with Cleveland's president of basketball operations, Koby Altman, per Joe Vardon of The Athletic (via Twitter). Pacers coach Rick Carlisle confirmed to reporters that the terms of the trade have been agreed to in principle, Vardon tweets.
LeVert, a native of Columbus, is excited to return home to Ohio and join the rising Cavaliers, Wojnarowski reports (via Twitter). LeVert will be eligible for an extension this summer. He's making $17.5MM this season and $18.8MM in 2022/23.
Rubio, who unfortunately suffered a torn ACL in his left knee at the end of December and is out for the season, was involved for salary-matching purposes. He's on an expiring $17.8MM contract and will become an unrestricted free agent this summer. The disabled player exception the Cavaliers received after Rubio's injury, which is worth $8.9MM, will be voided upon completion of the trade, as ESPN's Bobby Marks tweets.
Cleveland has been scouring the trade market for guard help after season-ending injuries to Rubio and Collin Sexton, who suffered a torn MCL in November which required surgery. The Cavs were later granted a disabled player exception for Sexton, which they still hold. It's worth $3.17MM, half of Sexton's salary this season. They previously made a minor trade to acquire Rajon Rondo from the Lakers, but were still in pursuit of a younger player who could play a bigger role.
The Cavs had been rumored to be interested in LeVert for weeks, but one recent report said they were resistant to Indiana's high asking price. Obviously the Cavs value LeVert highly to give up their protected 2022 first-round pick and Houston's second-rounder, which figures to be in the early 30s.
LeVert, 27, is averaging 18.7 PPG, 3.8 RPG, and 4.4 APG on .447/.323/.760 shooting through 39 games this season (31.1 MPG). His last outing in a Pacers uniform was a stellar one, putting up 42 points, five rebounds, and eight assists on 19-26 shooting in Indiana's 122-115 loss to Chicago Friday.
For the Pacers, it's a significant haul for a player with one additional year remaining on his contract. Although LeVert is a talented shot creator and scorer, he has his share of weaknesses. He's more of a shoot-first, pass-second type of player and isn't a great shooter. He's also a subpar defender. Apparently the Cavaliers think they will be able to cover some of LeVert's defensive limitations with their third-ranked defense, anchored by Jarrett Allen and Evan Mobley.
It will be interesting to see if the Pacers continue to make deals ahead of the February 10 trade deadline. They are reportedly willing to listen to offers for several players, including Domantas Sabonis, Myles Turner, Justin Holiday, and Jeremy Lamb.
The Cavs currently hold a 32-21 record, fourth in the East, while the Pacers are 19-35, 13th in the East.