The Trail Blazers confirmed today in a press release that center Jusuf Nurkic and guards Anfernee Simons and Eric Bledsoe won't return for the team this season.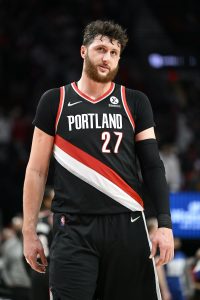 According to today's announcement, Nurkic (left foot plantar fasciitis) and Simons (patellar tendinopathy in his left knee) have responded well to treatment and rehabilitation, with Nurkic's rehab program reducing his symptoms and increasing the "overall function" of his left foot and ankle.
Nurkic will be an unrestricted free agent this summer, while Simons will be a restricted free agent. However, both players – especially Simons – are considered good bets to re-sign with Portland.
Bledsoe, who hasn't played in a game for the Blazers since being acquired from the Clippers prior to February's trade deadline, received a platelet-rich plasma (PRP) injection last Wednesday to address the tendinopathy in his left Achilles tendon, per the team. Bledsoe technically has one more year left on his contract, but only $3.9MM of his $19.4MM salary for 2022/23 is guaranteed, so he appears likely to be waived in the offseason.
The Blazers issued injury updates on two more players, announcing that swingman Josh Hart, who has missed the club's last four games due to patellar tendinopathy in his left knee, will be reevaluated in a week. There will only be one week left in the season at that point, so it won't be a major surprise if Hart doesn't play again in 2021/22.
Meanwhile, Didi Louzada – acquired from New Orleans last month in the CJ McCollum trade – is in the final stages of his return-to-play protocol after undergoing surgery on a torn mensicus on February 4. The Blazers expect him to play before the end of the season.
Damian Lillard (abdominal surgery), Nassir Little (shoulder surgery), and Joe Ingles (ACL surgery) have previously been ruled out for the season by the Blazers, while Trendon Watford (hyperextended left knee and bone bruise) is also questionable to return within the next two weeks.