For the rest of the regular season and postseason, Hoops Rumors is taking a closer look at players who will be free agents or could become free agents this offseason. We consider whether their stock is rising or falling due to their performance and other factors. Today, we're focusing on a handful of Northwest players.
---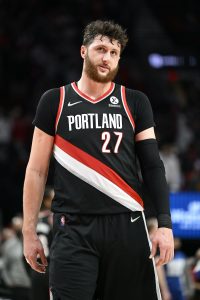 2021/22: $12MM
2022/23: UFA
Stock: Up ⬆️
A lengthy injury absence preceding a player's free agency typically doesn't help that player's stock, but Nurkic's value is on the rise despite the case of plantar fasciitis that will sideline him for at least four weeks and could end his season.
Prior to his injury, the veteran center was playing his best basketball of the season during a four-game winning streak (21.5 PPG, 14.0 RPG, and 4.3 APG). As a result, it's safe to assume shutting him down was more about keeping the Blazers' tanking efforts on track than it was about any long-term health concerns. After all, Portland has had essentially a neutral net rating (-0.1) during Nurkic's minutes this season, compared to a -11.7 mark when he's not on the court.
Nurkic looks like a good bet to get a new contract worth at least the $12MM per year he's currently making — and likely more than that.
2021/22: $9.72MM
2022/23: $10.18MM player option
Stock: Down ⬇️
Favors' per-minute production hasn't declined significantly during the last two seasons, but his 15.3 minutes per game in 2020/21 and his 16.7 MPG this season are the two lowest marks of his career. Injuries and DNP-CDs have also limited him to just 39 games so far in '21/22.
At age 30, Favors should still have plenty left in the tank, and he could reverse the trend of his declining playing time if he ends up in the right situation next season. But he won't get a contract offer on the open market that exceeds the value of his player option ($10.18MM). I'd expect him to opt in and then try to work with the Thunder on a trade or buyout.
2021/22: Minimum salary
2022/23: UFA
Stock: Up ⬆️
Once a key three-and-D rotation player in Houston, House saw his numbers dip in 2020/21 and slide even further to start this season, leading to his release. It took him a little time to find a permanent new home following a 10-day deal with the Knicks, but he has hit his stride again in Utah, averaging 6.7 PPG with an impressive .453 3PT% in 18 games (18.8 MPG).
House isn't the type of player who is a threat to go off for 30 points on a given night (his career high is 23), but his ability to knock down three-pointers and defend multiple positions could be very important for a Utah team hoping to make a deep playoff run. A strong postseason showing would further boost House's stock entering the summer.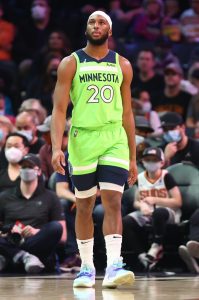 2021/22: $4.09MM
2022/23: RFA
Stock: Down ⬇️
Okogie has received praise from head coach Chris Finch for his leadership and his attitude, but the former first-round pick is no longer part of the Timberwolves' regular rotation, having logged just 48 minutes across seven games since the start of February. He has some value on defense, but doesn't provide enough on offense to warrant consistent minutes.
While Minnesota can technically make Okogie a restricted free agent this offseason, doing so would require a $5.86MM qualifying offer — I expect the team to pass on that QO, letting Okogie become an unrestricted FA.
2021/22: $4.5MM
2022/23: $4.5MM player option
Stock: Up ⬆️
After years of settling for minimum-salary contracts, Green earned a two-year, $9MM commitment from the Nuggets last summer. The veteran forward will turn 36 years old later this year, so he initially seemed like a safe bet to pick up his $4.5MM option for 2022/23. But that's no longer a given, based on the way he has performed this season.
Stepping into a larger role than anticipated due to Michael Porter Jr.'s extended absence (and, to a lesser extent, Vlatko Cancar's season-ending foot injury), Green has averaged nearly 25 minutes per game in 63 appearances (51 starts) for Denver, scoring 10.5 PPG on 51.4% shooting.
While he has struggled from beyond the three-point line (30.1%), Green has been a crucial contributor this season for a Nuggets team trying to survive without two of its top scorers (Porter and Jamal Murray). It might be enough to justify an offseason opt-out — if he finishes the season strong, Green could potentially land one more multiyear deal.