For the rest of the regular season and postseason, Hoops Rumors is taking a closer look at players who will be free agents or could become free agents this offseason. We consider whether their stock is rising or falling due to their performance and other factors. Today, we're focusing on a handful of Southwest players.
---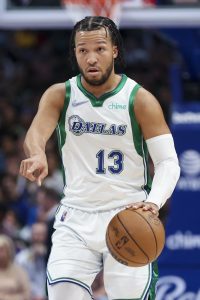 2021/22: Minimum salary
2022/23: UFA
Stock: Up ⬆️
Brunson will never be considered the Mavericks' best pick in the 2018 draft – that honor belongs to backcourt partner Luka Doncic – but he has become one of that draft's best values. Selected 33rd overall, Brunson has gradually taken on a larger role in Dallas and is enjoying the best year of his career in 2021/22, averaging 16.2 PPG, 4.9 APG, and 3.8 RPG on .498/.368/.845 shooting in 73 games (32.0 MPG).
Brunson's four-year, $6.1MM rookie contract was a great deal for the Mavs, but they'll have to give him a massive raise if they want to keep him. Because he's a second-rounder who signed for four years, the 25-year-old will be an unrestricted free agent this summer rather than restricted. That should give him more leverage in contract negotiations, as should the interest he's reportedly receiving from the Knicks and Pistons.
The rumored asking price for Brunson's next deal is $80MM for four years, which seems within reach — other guards like Fred VanVleet, Lonzo Ball, and Malcolm Brogdon have signed similar contracts in recent years, and Brunson's representatives can make a case that his résumé matches up favorably with what those players had accomplished when they finalized their respective deals.
2021/22: $5.89MM
2022/23: UFA
Stock: Down ⬇️
Schröder's stock has yo-yo'd up and down drastically in the last two seasons. After famously turning down an extension offer worth a reported $80MM+ from the Lakers, Schröder settled for a one-year, $5.9MM deal with Boston in free agency. He outperformed that contract early in the season, prompting some discussion about how the Celtics – who would have only held his Non-Bird rights at season's end – wouldn't be able to afford to bring him back.
However, Schröder eventually fell back down to earth and became a trade chip for the C's, who sent him to Houston. Initially viewed as a possible buyout candidate for the lottery-bound Rockets, the veteran guard earned some early praise for his impact on the team's young guards. But Schröder's overall numbers in 15 games in Houston, including a .393 FG% and a .328 3PT%, probably won't convince offseason suitors that he deserves a raise on his 2022/23 salary.
2021/22: $4.45MM
2022/23: RFA
Stock: Up ⬆️
After a promising 2020/21 campaign in which he averaged a career-high 11.2 PPG in 60 games (25.4 MPG), Walker got off to a dismal start this season, shooting just 38.5% from the field and 29.3% on threes through his first 51 games (22.5 MPG).
He has played far better since the trade deadline, putting up 18.7 PPG on .471/.388/.667 shooting in 13 appearances (27.2 MPG) before he went down with a back injury on March 18. Having rejuvenated his value as he nears free agency, Walker is set to return from that back issue on Wednesday.
The Spurs have been better with Walker off the court than on it, and his overall numbers this season still aren't great, but he looks like a much safer bet to receive a $6.3MM qualifying offer (making him a restricted free agent) than he did two months ago.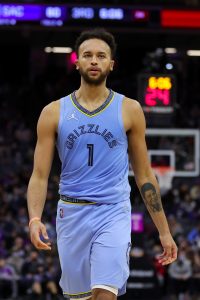 2021/22: $9.94MM
2022/23: UFA
Stock: Down ⬇️
Anderson's stock has dipped a little this year, but that's in large part due to how good he was in 2020/21, when he posted a career-best 12.4 PPG and 3.6 APG and established himself as a legitimate three-point threat for the first time (36.0% on 3.8 attempts per game).
Those numbers are all down this year (7.4 PPG, 2.6 APG, .323 3PT%) as Anderson has moved to the bench and seen his minutes cut back. The Grizzlies' overall success, including a 53-23 record, works in Anderson's favor, but his +3.2 net rating is among the worst on the team.
While Anderson is still a versatile defender who provides some value on the wing, teams interested in him this summer will probably view last season's increased offensive output as an aberration rather than a sign of things to come on that end of the floor.
2021/22: Minimum salary
2022/23: UFA
Stock: Down ⬇️
The only player on the Pelicans' 15-man roster who doesn't have a contract for next season, Snell was a throw-in the CJ McCollum trade last month. He had a few solid games after arriving in New Orleans, but has since fallen out of the rotation and probably isn't part of the team's plans beyond this season.
Snell signed a minimum-salary contract last summer with Portland following a season in which he made 56.9% of his three-point attempts. With that number down to 35.3% in 2021/22, another minimum-salary deal is probably a best-case scenario for him this offseason.