9:46am: The Celtics have provided an official update on Williams, announcing that he underwent a successful partial left knee meniscectomy and confirming that he's expected to return in about four-to-six weeks (Twitter links).
---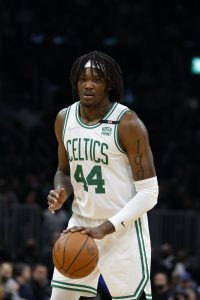 7:41am: Robert Williams underwent surgery this morning on the torn meniscus in his left knee, according to Adrian Wojnarowski of ESPN, who reports that the Celtics big man is expected to return within about four-to-six weeks. There's optimism his return could fall on the shorter end of that timeline, Wojnarowski adds (via Twitter).
While Williams will, of course, miss the rest of the regular season, there's a chance he could play again in the postseason, especially if Boston advances to the second round. The Eastern Conference Semifinals will begin between April 30 and May 3, which is at least a month away.
As we noted when Williams was first diagnosed with a torn meniscus, the recovery timeline for the injury can vary significantly depending on the severity of the tear and how it's treated. Jaren Jackson Jr. missed most of last season due to the injury, while James Wiseman and Collin Sexton are on similar timetables this year. However, the injury costs some players only weeks rather than months — for instance, Didi Louzada is nearing a return after undergoing meniscus surgery in early February.
A four-to-six week projection is even more aggressive than Louzada's timeline, but it's not out of the question. If Williams is able to make it back for the Celtics and play anywhere near the level he was at prior to the injury, it would provide a significant boost to the team's chances of making a deep playoff run.
The Celtics have the NBA's best record since the start of February and Williams has played a major role in their recent success, anchoring the league's top-ranked defense and emerging as a strong candidate for an All-Defensive nod. He has averaged 10.0 PPG, 9.6 RPG, and 2.2 BPG with an impressive .736 FG% in 61 games (29.6 MPG) this season.
Williams is under contract for four more seasons beyond this one, so the Celtics will take his long-term health into account as they determine if and when he's able to play this spring.