With Denver's season officially over as of Wednesday night, Nikola Jokic has just one year left on his contract with the team. However, the star center told reporters after the Game 5 loss to Golden State that if the Nuggets offer him a five-year, super-max extension this offseason, he intends to accept it.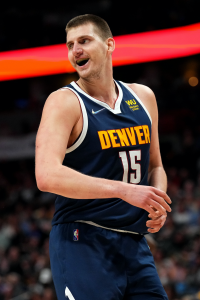 "I would like it, of course," Jokic said, per Ohm Youngmisuk of ESPN. "… I think if (the) offer is on the table, of course I'm going to accept it because I really like the organization, I really like the people who work here. I'm in (a) really good relationship with everybody from (the) owner to equipment manager."
A "super-max" is the term we use for a maximum-salary contract worth more than a player would typically be eligible for. Jokic only has seven years of NBA experience under his belt, which would normally qualify him for a maximum salary starting at 30% of the salary cap. By winning last year's MVP award, he made himself eligible for a maximum salary starting at 35% of the cap, though he wasn't able to officially sign an extension last offseason when he still had just six years of NBA service.
This offseason, Jokic and the Nuggets are free to move ahead with that deal, if they so choose. It sounds like he's on board and there's no reason to believe Denver won't be as well. Jokic is still very much in his prime at age 27, he appears to be in line for a second consecutive MVP award this spring, and he has proven himself to be extremely durable, appearing in at least 72 games in all seven years since he entered the league.
Jokic's agent Misko Raznatovic said earlier in the year that he anticipates his client will sign a super-max extension this offseason.
The deal, if completed, would tack on five years to Jokic's current contract, locking him up through the 2027/28 season. The exact value is not yet known, since it will depend on where the 2023/24 cap ends up. But based on a fairly conservative $125MM cap projection for '23/24, the five-year super-max extension would be worth $253.75MM.
If Jokic were to play out his current contract without an extension, he could theoretically sign elsewhere in 2023, but his max deal with another team (about $161MM over four years, based on a $125MM cap) would fall well short of the super-max he could get from Denver. Besides, the All-NBA big man doesn't sound like someone interested in a change of scenery.
"I think we have something that we are building," he said on Wednesday, according to Mike Singer of The Denver Post. "… We have pieces. We have tools. The only thing is are we going to work together. That's the only thing."