The Clippers had one of the NBA's most expensive rosters in 2021/22, but with Kawhi Leonard spending the year recovering from the ACL tear he sustained in last year's playoffs, the team's ceiling was never as high as its payroll suggested.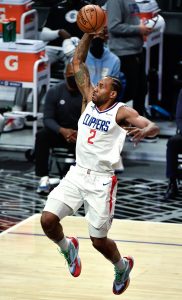 Even with Leonard unavailable and with George limited to 31 games due to injury issues of his own, the Clippers stayed competitive all season. Head coach Tyronn Lue had an impressive year, getting the most out of minimum-salary players such as Terance Mann, Isaiah Hartenstein, and Amir Coffey and veterans like Reggie Jackson, Ivica Zubac, Nicolas Batum, and Luke Kennard.
A record just above .500 (42-40) put the Clippers in the play-in tournament, where they still could have been dangerous if Leonard and George were available. But Kawhi wasn't yet ready to return from his long rehab process and an ill-timed positive COVID-19 test for George prevented him from suiting up for the second play-in game, which L.A. lost.
Given how much money they spent on the roster and how little they had to show for it as season's end (their lottery pick was sent to Oklahoma City as part of the 2019 George deal), it's easy to view 2021/22 as a lost year for the Clippers. But the opportunities that some of the team's role players received, and the strides they made, could pay dividends going forward as the roster gets healthier.
---
The Clippers' Offseason Plan:
The Clippers got a head-start on their offseason at the trade deadline in February when they sent Eric Bledsoe, Justise Winslow, Keon Johnson, and a second-round pick to Portland in exchange for Norman Powell and Robert Covington.
It was the sort of move the Clippers couldn't have waited until the offseason to make, since Bledsoe's non-guaranteed contract for 2022/23 would've complicated salary matching. And it essentially allowed the team to make a pair of veteran "free agent" additions without having the cap space to do so this summer. Powell is under contract for four more seasons, while Covington recently signed a two-year extension that allowed L.A. to secure his rights through 2024. It's safe to assume both will be key parts of next season's roster.
With Powell and Covington locked up, Leonard and George hopefully healthier going forward, and Marcus Morris, Kennard, Jackson, Zubac, Mann, and Brandon Boston Jr. all still under team control, the Clippers have a roster capable of seriously contending even without any further additions. However, the team will still have some cap- and roster-related questions to answer.
For one, just how much tax is Steve Ballmer willing to pay? If we assume the Clippers bring back all 10 players listed above, along with 2021 second-rounder Jason Preston, the team's salary is already up to $168.6MM, far beyond the projected luxury tax line of $149MM. Filling out the roster, including potentially negotiating new deals for Batum, Coffey, and/or Hartenstein, will only push that figure higher.
If Ballmer is willing to pay up, the Clippers have the flexibility to bring their own players back and continue pursuing roster upgrades. Batum's Early Bird rights and Coffey's Bird rights should allow for new deals, even if Batum turns down his $3.3MM player option.
L.A. only has Non-Bird rights on Hartenstein, so bringing him back might be trickier, but the team could use some or all of its $6.4MM taxpayer mid-level exception to make him a competitive offer or to sign an adequate replacement. If the team would rather not spend more than the minimum on its backup center, that MLE could be used to address another position.
Should Ballmer feel at all uneasy about his growing tax bill, a trade to shed salary is a possibility. Morris and Kennard are good players, but they may be a little more expendable following the additions of Covington and Powell — one or both could be shopped this offseason.
Even if cutting costs isn't a priority, the Clippers figure to explore the trade market, since adding one more play-maker – potentially at point guard – has long been on their to-do list. They have a pair of trade exceptions worth between $8-10MM that could come in handy in certain scenarios. If there are no viable trades out there, the Clippers may have to rely on the free agent market to add a lower-cost solution — Ricky Rubio would be an intriguing target if and when he's healthy.
---
Salary Cap Situation
Note: Our salary cap figures are based on the league's latest projection ($122MM) for 2022/23.
Guaranteed Salary
Paul George ($42,492,492)
Kawhi Leonard ($42,492,492)
Norman Powell ($16,758,621)
Marcus Morris ($16,372,093)
Luke Kennard ($14,415,545)
Robert Covington ($12,307,692)
Reggie Jackson ($11,215,260)
Terance Mann ($1,930,681)
Brandon Boston Jr. ($1,563,518)
Jason Preston ($1,563,518)
Total: $161,111,912

Player Options
Team Options
Non-Guaranteed Salary
Restricted Free Agents
Two-Way Free Agents
Draft Picks
No. 43 overall pick (no cap hold)
Extension-Eligible Players
Note: These are players who are either already eligible for an extension or will become eligible before the 2022/23 season begins.
Marcus Morris (veteran)
Ivica Zubac (veteran)
Unrestricted Free Agents / Other Cap Holds
Offseason Cap Outlook

It's hard to imagine a scenario where the Clippers aren't a taxpayer in 2022/23. To get below the tax line, they'd have to turn down Zubac's option, let all their free agents walk, and then shed at least $20MM+ more in guaranteed salary before filling out their roster with minimum contracts.
I don't see that happening, so the Clips will be limited to the taxpayer portion of the mid-level exception this offseason and won't be able to use the bi-annual exception or acquire anyone via sign-and-trade.
Cap Exceptions Available
Taxpayer mid-level exception: $6,392,000 1
Trade exception: $9,720,900
Trade exception: $8,250,000
Footnotes
This is a projected value.
---
Salary and cap information from Basketball Insiders and RealGM was used in the creation of this post.