Bobby Portis has told the Bucks he will decline his $4.6MM option for next season, tweets ESPN's Adrian Wojnarowski.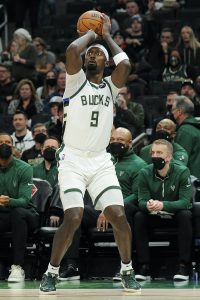 The 27-year-old forward will be an unrestricted free agent, but there's a good chance he'll stay in Milwaukee on a more lucrative deal, according to Jake Fischer of Bleacher Report, who says Portis "seems destined" to sign a new contract worth more than $40MM over four years to remain with the Bucks.
The Bucks have Early Bird rights on Portis and can pay him up to $49MM over four seasons, according to Bobby Marks of ESPN (Twitter link). Marks adds that a new Early Bird contract must cover at least two seasons with no options in the second year.
Portis played an important role in Milwaukee's title-winning team in 2020/21 and was just as valuable this past season. He moved into the starting lineup — starting 59 of the 72 games he played — and averaged a career-best 14.6 points and 9.1 rebounds per night.
Portis was the No. 13 player on our list of 2022's top 50 free agents.