JULY 6: The Bucks have officially re-signed Portis, the team announced today in a press release.
---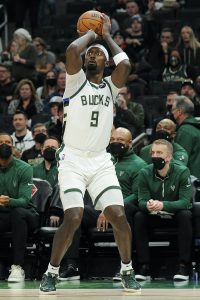 JUNE 30: The Bucks have reached an agreement to re-sign free agent big man Bobby Portis to a four-year, $49MM contract, agent Mark Bartelstein tells Adrian Wojnarowski of ESPN (Twitter link).
That's the maximum amount that the Bucks could have given Portis using his Early Bird rights after he turned down his $4.6MM player option earlier this week.
The 6'10" Portis had a strong second season with Milwaukee, averaging career-highs in points (14.6) and rebounds (9.1) while appearing in 72 games (28.2 minutes per contest). He also started a career-high 59 games as center Brook Lopez dealt with a back injury which required surgery.
Portis, 27, is well-known for bringing lots of energy and intensity to the court, but he's also a skilled offensive player, posting a .479/.393/.752 shooting line. He primarily served as a shooter for the Bucks to create space and driving lanes for two-time MVP Giannis Antetokounmpo, who has said he loves playing with Portis.
While Portis is a limited defender, he's a good rebounder and gives solid effort, he just makes poor decisions and has trouble staying in front of smaller players. He also isn't much of a rim protector, but Antetokounmpo is a very good backline anchor, which covers up for Portis' weaknesses somewhat.
Portis was a key reserve when the Bucks won the title in 2020/21 and is a fan favorite in Milwaukee. Given he's the same age as Antetokounmpo and Lopez is 34 and will be on an expiring deal, clearly the Bucks viewed Portis as a priority to retain, and since they're over the cap, it's not like they could easily find someone to replace his production.