Clippers forward Nicolas Batum won't pick up his player option for the 2022/23 season, sources tell ESPN's Adrian Wojnarowski (Twitter link). Batum will become an unrestricted free agent, though he and the Clippers are expected to have mutual interest in negotiating a new deal next week, according to Wojnarowski.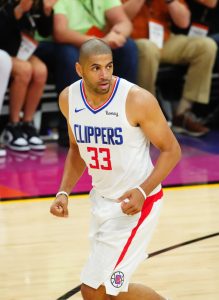 Batum's option would have paid him $3,328,530 next season if he had exercised it. Based on his strong play in Los Angeles over the last two seasons, the 33-year-old has earned a raise on that figure.
Across two seasons and 126 games with the Clippers, Batum has averaged 8.2 PPG, 4.5 RPG, 2.0 APG, and 1.0 SPG with a .402 3PT% in 26.2 minutes per contest while playing solid, versatile defense. We ranked him 23rd overall last week in our list of 2022's top 50 free agents.
Although Batum won't come anywhere close to matching the five-year, $120MM contract he signed with the Hornets back in 2016, he seems like a good bet to receive interest as a mid-level target. The full mid-level exception for 2022/23 projects to be worth $10.35MM, while the taxpayer MLE would come in at $6.39MM, based on a $122MM cap.
The Clippers will be well above the luxury tax line next season, but will hold Batum's Early Bird rights, giving them the opportunity to make a competitive offer without using their mid-level exception. Los Angeles should be able to offer a starting salary up to approximately $11MM using the Early Bird exception. An Early Bird offer would have to be for at least two years, with no player or team option on that second year (though the second year doesn't need to be fully guaranteed).
Batum spoke enthusiastically in May about the impact head coach Tyronn Lue has had on him and his desire to remain with the Clippers.
Batum is the only Clipper holding a player option for the 2022/23 season, but L.A. has a team option decision to make on Ivica Zubac before free agency begins. Zubac's $7.5MM option salary is relatively team-friendly, so I'd expect it to be exercised.
The full list of player option decisions can be found right here. We're also tracking team option decisions here, though none have been officially made yet.