JUNE 3: The Lakers have officially hired Ham as their head coach, the team announced today in a press release.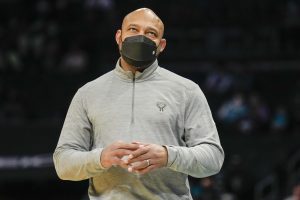 "When someone begins his NBA coaching career at the G League level and goes all the way through playing an integral role on the front bench of an NBA Championship team, it really speaks to a certain strength of character," Lakers head of basketball operations Rob Pelinka said in a statement. "Our players and fans will immediately identify with Darvin's no-nonsense and hard-working approach, which we feel will bring toughness and a competitive edge to all we do.
"When you add that to Darvin's sophisticated grasp of in-game strategy and deep knowledge of the game of basketball, we have the ideal coach for this next chapter in Lakers history. We could not be more honored and proud to name Darvin Ham as our new head coach."
---
MAY 27: The Lakers are hiring Bucks assistant Darvin Ham to be their new head coach, sources tell Adrian Wojnarowski of ESPN (Twitter link).
The first-time head coach will receive a four-year contract, tweets Shams Charania of The Athletic.
According to Wojnarowski, Ham interviewed for the vacancy on Thursday and was offered the job on Friday. He impressed the Lakers' brass with his "commanding presence, history of coaching stars and toughness." Ham's coaching staff is likely to include assistants with prior head coaching experience, Woj adds (Twitter links).
Charania and Sam Amick of The Athletic reported a week ago that Ham was considered the leading candidate for the position. He'll replace Frank Vogel, who was fired at the end of the team's disappointing season.
Ham started his NBA career as a player, appearing in 417 games from 1996-2005 and winning a championship as a bit player for the Pistons in 2004.
The 48-year-old has ties to the Lakers organization, as his first role as an NBA assistant coach came with L.A. from 2011-13. Ham has spent the last nine seasons working under head coach Mike Budenholzer in Atlanta and Milwaukee, winning a title with the Bucks last season.
Ham has received consideration from multiple teams with head coaching openings in recent years and interviewed with the Kings before they hired Mike Brown earlier this month. He was also said to be a "serious candidate" for the Hornets' vacancy.
Lakers star LeBron James sent out a tweet expressing excitement and congratulating Ham on receiving the job.
Warriors assistant Kenny Atkinson and former Trail Blazers coach Terry Stotts were the other finalists for L.A.'s vacancy. Both have reportedly interviewed for Charlotte's lead job as well.
Although the Lakers won a title just two seasons ago, they've struggled since, having been eliminated in the first round of the playoffs in 2020/21 and finishing with a 33-49 record this past season, which was 11th in the West and outside of the play-in tournament. Injuries to James and Anthony Davis have certainly played a factor in the downturn, but Ham will have his hands full working with a top-heavy roster that includes Russell Westbrook, who struggled mightily in his first season in Los Angeles.