JULY 9: Hauser's new contract with the Celtics is now official, per NBA.com's transactions log.
---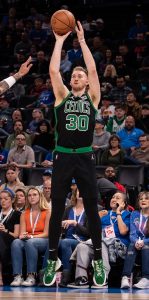 JULY 3: Celtics reserve small forward Sam Hauser will return to Boston on a three-year contract, per Adam Himmelsbach of the Boston Globe.
Himmelsbach reports that the three-year deal will be worth $6MM. The last season of the contract is non-guaranteed.
Boston possesses Hauser's Non-Bird rights and can sign him using those. A three-year salary at the league minimum would be worth $5.66MM, so the $6MM figure is either rounded up or is a sliver above the minimum.
While at Virginia, Hauser was honored as an All-ACC First Team pick in 2021. Prior to his tenure with the Cavaliers, he played for Marquette, where he was named an All-Big East Third Teamer.
Boston first added Hauser as an undrafted rookie out of Virginia via a two-way deal during the 2021 offseason. The 6'8″ wing was promoted to the team's 15-man roster in February.
In 26 regular season contests with Boston during 2021/22, the 24-year-old averaged 2.5 PPG and 1.1 RPG in just 6.1 MPG. Most notably, he connected on 43.2% of his 1.7 three-point looks a night for Boston.
Across 10 games for the Maine Celtics, Bostons' NBAGL affiliate club, Hauser enjoyed a more robust role, replete with more robust stats, averaging 16.9 PPG, 5.0 RPG, 1.9 APG, and 0.9 SPG in 33.5 MPG. He posted shooting splits of .487/.433/.917.
Last week, the Celtics officially declined their team option on Hauser and tendered him a qualifying offer, making him a restricted free agent. Reporting at the time indicated a longer-team deal looked likely.
Himmelsbach adds that the Boston front office is optimistic Hauser can become a meaningful rotation contributor at some point in the duration of his new deal.