Nets general manager Sean Marks has issued a statement indicating that star forward Kevin Durant has rescinded his trade demand and will remain in Brooklyn. Marks' statement is as follows: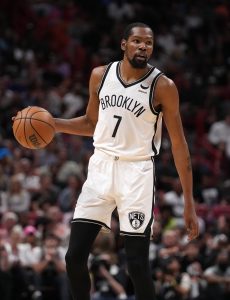 "(Head coach) Steve Nash and I, together with (team owners) Joe Tsai and Clara Wu Tsai, met with Kevin Durant and (Durant's manager) Rich Kleiman in Los Angeles yesterday. We have agreed to move forward with our partnership. We are focusing on basketball, with one collective goal in mind: build a lasting franchise to bring a championship to Brooklyn."
The news represents a major about-face for Durant, who requested a trade on June 30, then reiterated that request earlier this month and told Tsai he'd only stay if Marks and Nash were fired.
Although Durant pushed for nearly two months to be traded, his leverage was somewhat limited by the fact that he had signed a four-year extension with the Nets a year ago. That contract begins this season and will keep the former MVP off the free agent market until at least 2026.
With Durant locked up for four years, the Nets could afford to play hardball in trade negotiations this summer, reportedly demanding impact players and a series of unprotected first-round picks from suitors interested in the 33-year-old.
Although many teams inquired and some made intriguing offers (including a Celtics proposal that reportedly included Jaylen Brown), Brooklyn never seemed to gain any serious traction in trade discussions. The Nets' sky-high asking price and hard-line stance perhaps reflected that hanging onto Durant was their desire outcome all along.
Given that we've only heard from the team so far and haven't gotten Durant's perspective, it's unclear how genuine or long-term his newfound commitment to the Nets is. But for what it's worth, Brian Lewis of The New York Post says this isn't just a case of the team convincing Durant to stay for one more year and be placed back on the trade block next summer — the plan is for it to be a long-term marriage, Lewis tweets.
With Durant staying put, it appears Brooklyn will enter the fall with its Big Three of Durant, Kyrie Irving, and Ben Simmons intact after an offseason full of trade rumors. With talented role players like Joe Harris, Seth Curry, Royce O'Neale, Nic Claxton, Patty Mills, and T.J. Warren also in the mix, the club has a high ceiling as long as its stars remain healthy and effective, though there may be some lingering tension to work through after all that has transpired this summer.
Meanwhile, the teams that most seriously explored the possibility of a Durant trade will have to move on from those trade discussions. That group includes the Suns, Heat, Celtics, Raptors, and Sixers, among others. It's possible that one or more of those clubs could pivot to pursuing Donovan Mitchell, who is now the biggest star available on the trade market, but many will simply focus on preparing for the coming season with their current cores.