Nets star Kevin Durant has requested a trade out of Brooklyn, sources tell Shams Charania of The Athletic (Twitter link).
Durant's business manager Rich Kleiman tells Adrian Wojnarowski of ESPN (Twitter link) that he and Durant are working with Nets general manager Sean Marks to find a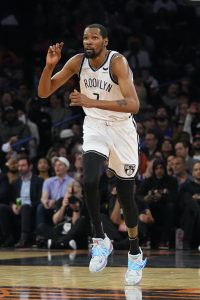 new home for the former MVP. Durant made his trade request directly to Nets owner Joe Tsai today, sources tell Wojnarowski (Twitter link).
Multiple reports last week suggested that Durant was mulling his long-term future in Brooklyn, despite being under contract for the next four years on a maximum-salary contract. At the time, those rumors were believed to be tied to Kyrie Irving's efforts to secure a long-term deal with the Nets — once Irving decided to opt in, there was a sense that things may quiet down in Brooklyn for the time being.
Clearly, that's not the case.
Word of Durant's newfound availability breaks with the start of 2022 free agency just hours away, potentially upending many teams' offseason plans. The Suns, for instance are shifting their focus to Durant, per John Gambadoro of Arizona Sports 98.7. Gambadoro tweets that Phoenix doesn't want to gut its roster to get Durant, but he's the club's new top priority.
The 33-year-old will be one of the most valuable trade assets to ever hit the market, according to ESPN's Adrian Wojnarowski (Twitter link), who notes that Brooklyn will be seeking a "historic return." No one on the roster is expected to be off-limits as the Nets engage in trade talks, Wojnarowski adds.
Durant has the Suns listed as one of his preferred destinations, per Chris Haynes of Yahoo Sports (Twitter link). The Heat have also been mentioned as a preferred landing spot for the 12-time All-Star, tweets Jake Fischer of Bleacher Report.
However, while Wojnarowski confirms that Phoenix and Miami are on Durant's wish list, he says the Nets plan to get the best deal they possibly can (Twitter link). Since he's under contract for four more seasons, Durant will have limited leverage to pick and choose his destination.
While the 2021/22 season was a disappointing one in Brooklyn from a team perspective, Durant was as good as ever. He appeared in just 55 games due to a knee injury, but averaged 29.9 PPG, 7.4 RPG, and 6.4 APG on .518/.383/.910 shooting in 37.2 minutes per contest. He'll earn approximately $44.1MM in 2022/23 and about $197.7MM in total through '25/26, with no option on the final year.
According to Wojnarowski (Twitter link), Irving and Durant had no contact with the Nets after Kyrie picked up his option earlier this week, creating a "sense of inevitability" that a Durant trade request might be coming. There has been no indication yet that Irving has made a similar request, but it's safe to assume Brooklyn will consider its options with the star guard if Durant is on the move — especially if the team shifts to rebuilding mode.
As the Nets begin exploring potential trade packages for Durant, it's worth noting that they're ineligible to trade for a second player who is on a five-year rookie scale extension via the "designated rookie" rule, as ESPN's Bobby Marks notes (via Twitter).
Teams are permitted to carry two "designated rookies" but only one can have been acquired via trade, and the Nets already have Ben Simmons. That rules out Brooklyn acquiring a player like, for instance, Bam Adebayo unless Simmons is dealt. And Sam Amick of The Athletic suggests (via Twitter) that the Nets are expected to hang onto Simmons.
The Nets would still be eligible to acquire a player like Deandre Ayton on a maximum-salary contract since he's no longer eligible to receive a designated rookie extension. However, Ayton would have to be acquired via sign-and-trade, which would hard-cap the Nets for the 2022/23 league year, so the team would have to shed significant salary to make that a realistic option.