The Knicks have officially signed forward RJ Barrett to a rookie scale extension, the team announced today in a press release.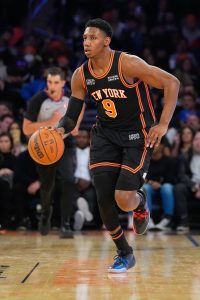 While the Knicks' didn't specify the terms of the deal in their announcement, previous reports indicated that Barrett's new four-year contract, which will go into effect in 2023/24, will include $107MM in guaranteed money and could be worth up to $120MM with incentives related to All-Star, All-NBA, and All-Defensive selections.
"We are thrilled to announce a well-deserved extension for RJ Barrett, a core piece of our team's foundation," Knicks president of basketball operations Leon Rose said in a statement. "At only 22 years old, he has elevated his game each season, solidifying himself as a force on both ends of the court. We believe he will continue to improve because of his passion for the game and dedication to his craft. We want to continue to build our team and culture around players like RJ who possess these values and qualities."
Fittingly, the Knicks announced Barrett's extension at almost exactly the same time word broke that the Jazz were trading Donovan Mitchell to Cleveland. The Knicks and Jazz reportedly had extensive discussions about Barrett as a possible centerpiece in a trade for Mitchell, with New York setting a Monday night deadline to either agree to a trade or extend the former No. 3 overall pick.
Barrett's extension didn't rule out the possibility that the Jazz and Knicks could work out a Mitchell trade, even one involving Barrett. However, it put those trade discussions on the back burner at least temporarily, opening the door for the Cavs to swoop in and finalize a trade for Mitchell themselves.
With Mitchell no longer available, it's a safe bet Barrett will be a Knick in 2022/23. If he's not included in another trade for a star down the road, he's on track to remain in New York all the way through at least the '26/27 season — his new deal reportedly doesn't include any player or team options, so he won't be eligible for free agency until the summer of 2027.
A former star at Duke, Barrett has steadily increased his scoring average in his three NBA seasons with the Knicks, registering a career-high 20.0 PPG in 70 games (34.5 MPG) in 2021/22. He also contributed 5.8 RPG and 3.0 APG while shooting .408/.342/.714 last season.
Those shooting marks were a step down from his career bests in '20/21 (.441/.401/.746), but the presence of newly acquired point guard Jalen Brunson this season should help boost Barrett's scoring efficiency.