OCTOBER 16, 1:06pm: The Warriors have officially signed Poole to his four-year extension, the team announced today in a press release.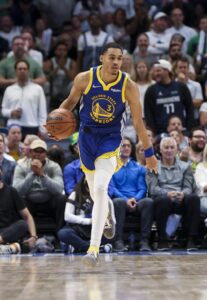 As we detailed in a separate story, Golden State also extended Wiggins for four years after reaching a deal with Poole.
---
OCTOBER 15, 2:14pm: The Warriors and Poole have now reached an agreement on the extension, reports Wojnarowski (via Twitter).
The four-year extension will include $123MM in guaranteed money, with an additional $17MM available via incentives, reports Anthony Slater of The Athletic.
---
OCTOBER 15, 10:51am: The Warriors are finalizing a four-year rookie scale extension with guard Jordan Poole, agents Drew Morrison and Austin Brown of CAA Sports tell ESPN's Adrian Wojnarowski (Twitter link). The deal will be worth $140MM, according to Wojnarowski, who says the two sides are completing the final details and are expected to have a formal agreement soon.
Given that the $140MM figure is coming from Poole's representatives, it's possible that not all of that money is fully guaranteed and that a portion of it is only attainable through incentives. Still, it looks like it will be the biggest rookie scale extension signed this year outside of the maximum-salary deals completed by Ja Morant, Darius Garland, and Zion Williamson.
Poole's huge new contract agreement comes on the heels of a breakout season, as he averaged 18.5 PPG, 4.0 APG, and 3.4 RPG on .448/.364/.925 shooting in 76 games (30.0 MPG) for the eventual champions.
The 23-year-old played an important role in Golden State's title run, increasing his shooting percentages to .508/.391/.915 in 22 playoff contests (27.5 MPG) and averaging 17.0 PPG.
Poole was one of three members of the Warriors' championship rotation who was extension-eligible and entering a potential contract year this fall. He was viewed as the team's top priority ahead of fellow extension candidates Draymond Green and Andrew Wiggins.
A practice incident earlier this month that saw Green punch Poole seemed to add more urgency to the Warriors' desire to get an extension done, since they wanted to affirm their commitment to Poole following that altercation, rather than having his contract situation hanging over his head all season.
Even if Poole earns a full $140MM over the next four years, that figure will fall just short of what a maximum-salary contract would've been worth as a restricted free agent next summer, based on the NBA's latest salary cap forecast. As our max projections show, using a $134MM cap estimate, Poole would've been eligible for a four-year max worth about $150MM with the Warriors or approximately $144MM if he were to sign with another team.
It's unclear what sort of impact Poole's extension will have on Golden State's extension negotiations with Wiggins and Green. Joe Lacob and the ownership group have paid record-setting amounts on player salaries and luxury tax penalties for the current roster, but the team has suggested there's a ceiling on what ownership is prepared to spend going forward. Lucrative new contracts for both Wiggins and Green may push the cost of the Warriors' roster beyond that ceiling.
Poole will be the seventh player to sign a rookie scale extension in 2022, joining Morant, Garland, Williamson, Tyler Herro, RJ Barrett, and Keldon Johnson. Seventeen players remain eligible to sign rookie scale extensions before Monday's deadline.