FEBRUARY 6: Despite efforts by the Nets to expand the deal and involve a third team, the trade remains a two-team swap and is now official, Shams Charania of The Athletic tweets.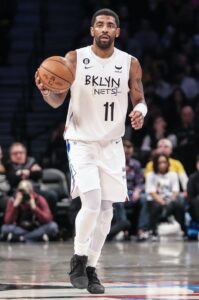 The Mavericks' PR department confirms the trade is official in a tweet.
Nets GM Sean Marks issued a statement, Chris Milholen of Nets Daily tweets, saying in part, "We're excited to add Spencer and Dorian to our roster, while also securing draft compensation that will increase our flexibility moving forward."
---
FEBRUARY 5: The Nets and Mavericks have agreed to a trade that will send point guard Kyrie Irving to Dallas, reports Shams Charania of The Athletic (Twitter link).
According to Charania (Twitter link) and Adrian Wojnarowski of ESPN (Twitter links), Brooklyn will receive guard Spencer Dinwiddie, forward Dorian Finney-Smith, an unprotected 2029 first-round pick, a 2027 second-round pick, and a 2029 second-round pick in the swap. Those draft picks will all be the Mavericks' own.
The Nets will also send forward Markieff Morris to the Mavs, Charania adds.
News of the agreement between the two teams comes just two days after word broke that Irving had requested a trade out of Brooklyn following failed negotiations on a contract extension. Reports at that time indicated that the All-Star guard had conveyed to the Nets that he planned to leave in free agency if he wasn't dealt by the February 9 trade deadline.
The Nets wasted little time accommodating Irving's request, having perhaps grown weary of the drama that has surrounded the 30-year-old since his arrival in Brooklyn in 2019. During those three-and-a-half years, Irving has missed significant time due to injuries, taken personal leaves of absence, refused to get vaccinated against COVID-19 despite a New York City mandate that prevented him from playing in home games, and served a team-issued suspension for promoting an antisemitic film on social media.
On the court, Irving played at his usual high level in 143 total games as a Net, averaging 27.1 points, 5.8 assists, and 4.8 rebounds per night with a .489/.396/.909 shooting line in 35.8 minutes per game. However, his and Kevin Durant's brilliance didn't translate to much postseason success — Brooklyn has won just a single playoff series since adding the two stars in 2019.
By trading Irving for a package that includes both veteran players and future draft picks, the Nets – who currently occupy the fourth seed in the East at 32-20 – will set themselves up to remain in contention this year while also securing some assets for the future. Kyrie was set to become an unrestricted free agent this summer, but Dinwiddie is under contract for another season and Finney-Smith's deal runs all the way through 2025/26 (the final year is a player option).
The Mavs, meanwhile, will get the co-star they wanted for All-NBA guard Luka Doncic and their new-look backcourt should be the NBA's most dynamic, though the move carries substantial risk. The trade will cost Dallas two of its most reliable rotation players, with Dinwiddie having averaged 17.7 PPG on .455/.405/.821 shooting and Finney-Smith handling key defensive assignments on the wing.
Additionally, while Irving could technically sign a two-year extension with the Mavs anytime before June 30, Sam Amick of The Athletic reported earlier today that Kyrie's preference is to play out the current season and seek a longer-term maximum-salary contract as a free agent, so Dallas may have to take its chances with the mercurial star this summer. Obviously, the organization will be motivated to make it work with Irving — the front office wouldn't have paid this price if it expected him to be a rental.
According to Marc Stein (Twitter link), the Mavericks consulted with Doncic before agreeing to trade for Irving, who is said to be "ecstatic" to join forces with Luka in Dallas, per Chris Haynes of Bleacher Report (Twitter link). Mavs president of basketball operations Nico Harrison, formerly a top Nike executive, has a long-standing relationship with Kyrie, notes Wojnarowski (Twitter link).
Both the Mavericks and Nets were already on track to be taxpayers this season, but because Irving ($36.9MM) and Morris ($1.8MM) have a higher combined cap hit than Dinwiddie ($20.2MM) and Finney-Smith ($12.4MM), the move will reduce Brooklyn's projected end-of-season tax bill by about $26.5MM and increase Dallas' by nearly $29MM, per Yossi Gozlan of HoopsHype (Twitter links).
Irving and Finney-Smith have trade bonuses in their contracts. Irving's is worth 15% of his remaining salary, while Finney-Smith's is worth 5%. There has been no indication yet that either player will waive or reduce his bonus.
The Lakers, Clippers, and Suns were also said to have interest in Irving, so the Mavs beat out several Western Conference rivals to land him. According to Wojnarowski (Twitter link), the Lakers and Nets had several conversations about a possible deal, but Brooklyn preferred Dallas' package that included useful present and future pieces — trade talks between the two teams accelerated today, Woj adds.