Veteran center Gorgui Dieng is once again back under contract with the Spurs, according to a press release from the team announcing that he has signed a rest-of-season deal.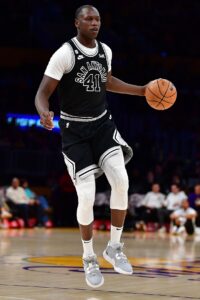 Dieng, who began the season in San Antonio, was waived a little over a month ago to accommodate the team's acquisition of Noah Vonleh. He subsequently signed a pair of 10-day contracts, and now that the Spurs got through the trade deadline with an open spot on their 15-man roster, he's back as the club's 15th man.
Dieng, 33, has played sparingly for the Spurs in 2022/23, averaging 3.4 PPG, 2.8 RPG, and 1.6 APG in 17 contests (9.8 MPG). However, the organization highly values his veteran leadership and his presence in the locker room.
On his new minimum-salary contract, Dieng will earn $895,743 for the rest of the season while the team takes on a $622,582 cap hit.
With their roster now full, it's unclear whether more moves could be coming for the Spurs. They acquired Khem Birch and Devonte' Graham as salary-matching pieces at the trade deadline, and while those two veterans may not be in San Antonio's long-term plans, they're both owed guaranteed salary in 2023/24, so they're not ideal buyout candidates.