For the rest of the regular season and postseason, Hoops Rumors is taking a closer look at players who will be free agents or could become free agents during the 2023 offseason. We consider whether their stock is rising or falling due to their performance and other factors. Today, we're focusing on a handful of Pacific players.
---
2022/23: $1.56MM
2023/24: RFA
Stock:

Up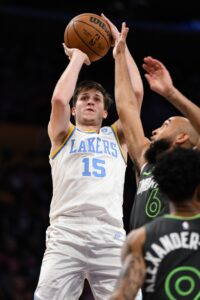 After going undrafted out of Oklahoma in 2021, Reaves initially caught on with the Lakers on a two-way deal, but received a promotion to a standard contract before his rookie season started. He was one of the bright spots in an otherwise disappointing season in Los Angeles, averaging 7.3 PPG, 3.2 RPG and 1.8 APG on .459/.317/.839 shooting (.600 true shooting percentage) in 61 games (23.2 MPG).
He has been even better in year two – you could easily make the case that he's been the Lakers' third-best player in 2022/23. Through 52 games (27.6 MPG), he's averaging 11.5 PPG, 2.9 RPG and 2.8 APG on an elite .511/.385/.860 shooting line (.667 TS%).
The 24-year-old has a really nice pump fake-and-drive game, which he uses to throw defenders off balance and draw fouls – he's averaging 3.4 free throw attempts per night, which is quite high considering his usage rate is only 14.7%. Reaves has a feathery soft touch when throwing lobs, has good chemistry with both LeBron James and Anthony Davis, and has drastically improved defensively in his second season.
Reaves will be a restricted free agent in the offseason. The Lakers were only able to give him a two-year rookie contract after using most of their taxpayer mid-level exception on Kendrick Nunn a couple years ago, so they will hold his Early Bird rights, with a maximum offer of $50.77MM over four years.
Could he get a higher offer than that in free agency? Quite possibly. Rival suitors who want to pry him away would be subject to the Arenas provision, which limits the amount they can offer in years one and two but allows them to include big bump in salary in years three and four. Unless it's a crazy overpay, I would expect the Lakers to match.
2022/23: $6.48MM
2023/24: UFA
Stock:

Down
Walker opened the season as a starter in his first year in Los Angeles, averaging 14.7 PPG, 2.3 RPG and 1.4 APG on .455/.384/.875 shooting (.578 TS%) in 32 games (29.8 MPG). Left knee tendinitis sidelined him for 14 consecutive games from late December to late January.
Walker has not started a game since he returned and has averaged just 15.5 MPG in 19 games, recording 8.2 PPG and 1.5 RPG on .417/.292/.867 shooting (.534 TS%). He has received a couple healthy scratches in that span.
Still just 24 years old, Walker is an explosive athlete but he's just an OK shooter and doesn't provide much in terms of rebounding, passing or defense. When he's been on the court, he has a minus-7.2 net rating, the worst among the team's rotation regulars. When he's off, the Lakers are plus-3.3.
I'd be pretty surprised if he receives a starting salary at the taxpayer mid-level exception again next season.
2022/23: $4.5MM
2023/24: $4.73MM player option
Stock:

Up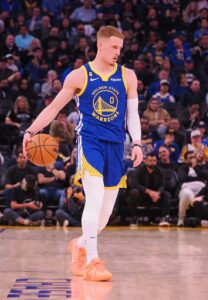 I was very surprised at how relatively little money DiVincenzo received in his first free agency foray last summer. I know he was coming off a down season in '21/22 following left ankle surgery and had particularly struggled with his shot – he posted a .351/.339/.843 shooting line in 42 combined games (24.0 MPG) with Milwaukee and Sacramento (.510 TS%).
Still, he started to play better as the year went on, and he was still solid in other areas (4.0 RPG, 2.8 APG, 1.1 SPG). The Kings initially gave him a qualifying offer and then pulled it, with the former No. 17 overall pick receiving part of the taxpayer mid-level from Golden State – he's actually making less this season than he did in the final year of his rookie contract.
The 26-year-old has certainly earned a raise. He has been invaluable to the Warriors, averaging 9.3 PPG, 4.4 RPG, 3.4 APG and 1.3 SPG in 60 games (25 starts, 26.6 MPG).
On top of being a strong defensive player, DiVincenzo has a high basketball IQ, hustles, and is shooting a career-high 40.4% from three-point range to go along with a rock solid 58.8 TS%. The Warriors only have his Non-Bird rights, so it will be very difficult to bring him back unless he really loves playing for them and is willing to accept a team-friendly deal.
2022/23: $3.92MM
2023/24: UFA
Stock:

Down
Len signed a two-year, $7.65MM contract with the Kings as a free agent in 2021. He didn't play all that well last season, averaging 6.0 PPG and 4.1 RPG while shooting 53.4% from the floor and 65.1% from the line in 39 games (15.9 MPG).
He has barely played at all in '22/23, appearing in 17 games for a total of 53 minutes. He is the definition of being buried on the depth chart.
It's hard to see the former No. 5 overall pick getting anything more than the veteran's minimum as a free agent this summer, assuming he finds a team.
2022/23: $1.84MM
2023/24: UFA
Stock:

Up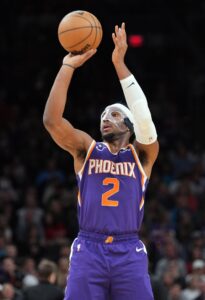 Okogie spent his first four seasons with Minnesota, the team that drafted him 20th overall in 2018. They let him walk after his rookie deal expired, and the 24-year-old was only able to find a veteran's minimum deal with Phoenix.
The primary reason for that modest deal was Okogie's limited offensive production. He averaged 6.4 PPG, 2.9 RPG and 1.0 SPG on .403/.275/.758 shooting (.521 TS%) in 244 games (20.6 MPG) with the Wolves.
His stats this season in Phoenix – 7.2 PPG, 3.4 RPG and 0.8 SPG on .399/.329/.728 shooting (53.5 TS%) in 60 games (17.6 MPG) – aren't all that different. So why is his stock up?
Since the start of the new year, Okogie is averaging 10.4 PPG, 3.8 RPG and 1.0 SPG on .398/.369/.725 shooting (.547 TS%) in 28 games (24.1 MPG). He has been even better over the past 14 contests, of which he's started 13 straight (32.4 MPG), averaging 14.5 PPG, 4.4 RPG and 1.6 SPG on .423/.378/.780 shooting (.580 TS%).
Okogie is a ferocious offensive rebounder and pound-for-pound one of the best athletes in the NBA, which enables him to switch across multiple positions. He is an outstanding defender.
The Nigerian swingman brings a relentless energy and physicality every time he steps on the court, which complements a team that relies heavily on jump shots. I don't have a good feel for how much he might get on his next contract, but he's certainly trending in a positive direction.