For the rest of the regular season and postseason, Hoops Rumors is taking a closer look at players who will be free agents or could become free agents during the 2023 offseason. We consider whether their stock is rising or falling due to their performance and other factors. Today, we're focusing on a handful of Southeast players.
---
2022/23: $33.8MM
2023/24: $36MM player option
Stock:

Up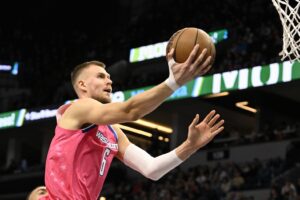 I think Porzingis has been the Wizards' best player this season. You could interpret that as a backhanded compliment since they aren't very good, but I don't mean it to be — he's having a career year.
Through 62 games (32.6 MPG) in 2022/23, the 27-year-old is averaging 23.0 PPG, 8.4 RPG, 2.6 APG, 0.9 SPG and 1.5 BPG on .492/.375/.849 shooting. The points, assists and steals per game represent career highs, and he's scoring more efficiently than ever, recording career bests in FG%, 2PT% (.556), free throw attempts (6.5 per game), free throws made (5.5) and true shooting percentage (.621).
Porzingis is also playing solid defense, with opponents shooting just 56% at the rim against him, per NBA.com's data — a strong mark. He has generally been an active deterrent, and it's tough to shoot over someone 7'3″.
The biggest question mark surrounding Porzingis has always been his health, as he could surpass the 70-game mark for just the second time in his career this season. Maybe something in the three-year, $105MM range could be within reach – I'd be hesitant to go out four or five years.
2022/23: $28.9MM + $3.1MM
2023/24: UFA
Stock:

Down
Love was the runner-up for Sixth Man of the Year in 2021/22 after putting up 13.6 PPG, 7.2 RPG and 2.2 APG on .430/.392/.838 shooting in 72 games (22.5 MPG) for Cleveland. He had a solid start this season, averaging 11.3 PPG, 7.4 RPG and 2.6 APG on .425/.409/.861 shooting in 15 games (21.3 MPG).
Unfortunately, he sustained a thumb injury that impacted his outside shooting – a huge reason why he had been an effective bench piece. Over the following 26 games (19.3 MP), he averaged just 6.8 PPG, 6.5 RPG and 1.4 APG on .364/.308/.926 shooting. The Cavs subsequently pulled him from the rotation, but he still wanted a chance to play, so the two sides reached a buyout agreement, with Love catching on with the Heat.
In 14 games (21.4 MPG) with Miami, he's averaging 7.8 PPG, 6.2 RPG and 2.0 APG on .383/.286/.850 shooting. Love has always been a very good defensive rebounder, and he is a terrific outlet passer. However, he is an overall poor defensive player, he'll be 35 years old before next season begins, and he has a lengthy injury history.
It's hard to envision him getting more than a one-year contract in the offseason, and I'd be very surprised if it's for more than the taxpayer mid-level exception (projected to be $7MM).
2022/23: Minimum salary
2023/24: UFA
Stock:

Down
Strus is already a success story as an undrafted free agent who originally caught on with Boston and then Chicago on two-way deals before tearing his ACL in December 2019. He worked his way back through the G League and caught on with Miami before '20/21, inking another two-way deal.
He impressed the Heat enough to earn a two-year, minimum-salary contract, and had a terrific season in '21/22, averaging 10.6 PPG and 3.0 RPG while shooting 41% from deep on high volume in 68 games (23.3 MPG). Strus was so important that he was starting for the Heat in the playoffs as they came very close to making it back to the Finals.
As with Love, Strus started the season well, averaging 15.1 PPG and 3.8 RPG on .460/.378/.864 shooting 15 games (33 MPG). He has been in a prolonged shooting slump for much of the rest of the season though, averaging 10.9 PPG, 3.2 RPG and 2.3 APG on .387/.328/.892 shooting over the past 57 games (27.9 MPG).
Strus isn't a great defender, but he's not a liability. The main reason he plays is to make timely cuts and space the floor. He's shooting just 34% from three this season.
He's only 26, so I have no doubt that he will get a multiyear contract and a raise on his minimum salary. But his stock is definitely down compared to last year.
2022/23: Minimum salary
2023/24: UFA
Stock:

Up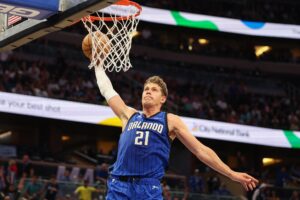 Part of the reason Orlando was comfortable trading Mohamed Bamba at the deadline is that he had been supplanted in the rotation by Wagner, a fifth-year big man who played his college ball at Michigan. Wagner missed the first 18 games of the season while recovering from a foot injury, but has played well since he returned.
A talented, energetic and decisive scorer, Wagner is averaging a career-high 11.1 PPG along with 4.7 RPG on .496/.310/.844 shooting in 51 games (20.2 MPG). He has played well as a fill-in starter, averaging 14.0 PPG, 6.9 RPG and 1.1 SPG on .525/.339/.869 shooting in 17 games (26.7 MPG).
At 6'11" and 245 pounds, Wagner has an interesting blend of ball skills and footwork for a center. He's quite effective at using pump fakes to drive and spin his way to the basket, frequently drawing fouls. He's converting 62.8% of his twos and 84.4% of his 3.4 free throw attempts per game, which is why his true shooting percentage is well above average (62.8%) even though he's only shooting 31% from deep.
The 25-year-old has outplayed his minimum-salary deal, and the Magic have his Bird rights if they want to bring him back. Wagner is not a rim protector and he's just an OK rebounder. Perhaps something in the range of $5-8MM per season could be within reach.
2022/23: $12.6MM
2023/24: UFA
Stock:

Neutral
Oubre brings prototypical size on the wing at 6'7″ with an enormous 7'2″ wingspan. He's an excellent athlete and excels in the open court.
Through 48 games (32.2 MPG), the 27-year-old is averaging a career-high 20.3 PPG along with 5.2 RPG and 1.4 SPG. He missed a good chunk of time after undergoing hand surgery in January.
The scoring looks nice, but it's paired with below average efficiency, as Oubre has posted a .431/.319/.760 slash line for a 53.4 TS%. He has also recorded just 54 assists against 819 field goal attempts in '22/23, a remarkably low percentage. That isn't an aberration – he's only averaged 1.0 APG in 527 career games (25.8 MPG).
As a free agent in 2021, Oubre signed a two-year, $24.6MM contract with the Hornets, with the second year only guaranteed at $5MM. He has spoken multiple times about wanting to remain in Charlotte. I find it hard to believe he'll get much more than he's currently making on a short-term deal, but he hasn't hurt his value either.