Rockets forward Kenyon Martin Jr. has met the "starter criteria" for potential restricted free agents by being part of Houston's starting lineup for at least 41 games this season.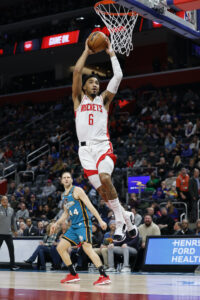 When a player meets the starter criteria, the value of his qualifying offer increases. Martin's QO at the end of this season would now be $5,216,324 (up from approximately $2.3MM), the equivalent of 100% of the rookie scale amount for a No. 21 pick from the 2019 draft class.
However, there's no guarantee that Martin will actually become a restricted free agent at season's end. The Rockets hold a $1.93MM team option on the 22-year-old for the 2023/24 season and could simply exercise that option to keep him under contract for another year.
That decision won't be as simple as it appears on the surface though. Because this is Martin's third NBA season, he would be eligible for restricted free agency this summer, but he'd become unrestricted if Houston picks up his option and postpones his free agency until 2024. In situations like this one, it can make sense for the club to turn down a team-friendly option in order to exert control over the player's free agency process, rather than risk having him walk for nothing in a year.
In fact, the Rockets took that exact approach a year ago with Jae'Sean Tate, who had a 2022/23 team option but would have become an unrestricted free agent in 2023 if that option was picked up. After declining his option, Houston made Tate a restricted free agent and locked him up to a three-year, $20.6MM contract.
It remains to be seen what direction the Rockets will go with Martin, but the increased value of his qualifying offer will add a new wrinkle to the decision. If Houston turns down its team option on Martin, then tenders him a qualifying offer, he could accept the QO and put himself on track for unrestricted free agency in 2024 anyway. That's a more plausible path now that the QO has risen in value by nearly $3MM.
Martin has played in all 76 of the Rockets' games this season, establishing new career highs in points (12.6), rebounds (5.5), and assists (1.5) per game, as well as field-goal percentage (57.2%). There were whispers in the fall that he spoke to management about a possible trade, but those rumors died down as he took on an increased role.
Martin was said in November to be open to a contract extension, so if they want to keep him, the Rockets will likely try to engage in extension negotiations to get a sense of his price before making a decision on his 2023/24 option.
Martin is the fourth potential restricted free agent to meet the starter criteria this season, joining P.J. Washington, Tre Jones, and Ayo Dosunmu. Cameron Johnson, Matisse Thybulle, and Grant Williams all still have a chance to get there before the regular season ends.