This is the eighth entry in our series breaking down the significant trades of the 2022/23 season. As opposed to giving out grades, this series explores why the teams were motivated to make the moves. Let's dive into a three-team deal between the Clippers, Rockets and Grizzlies…
---
On February 9:
The Clippers acquired Eric Gordon (from the Rockets) and three second-round picks (from the Grizzlies; details here).
The Grizzlies acquired Luke Kennard (from the Clippers) and the right to swap a 2026 second-round pick with Los Angeles.
The Rockets acquired Danny Green (from the Grizzlies), John Wall (from the Clippers), and the right to swap the Bucks' 2023 first-round pick for either the Clippers' or Thunder's 2023 first-round pick (whichever is least favorable; top-six protected; from Clippers)
The Rockets' perspective:
Shortly after the trade, both Green and Wall were subsequently released by Houston; Green reached a buyout agreement and later signed with Cleveland, while Wall remains a free agent.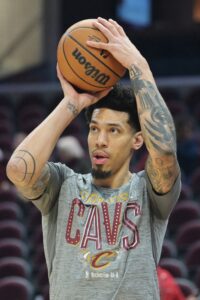 Multiple reports indicated that Houston was interested in keeping Green around, but obviously he had other plans. That makes a lot of sense — the three-time champion is 35 years old and the Rockets are the second-worst team in the NBA after finishing dead last in each of the previous two seasons.
After reaching a buyout with Wall over the summer, the Rockets wound up reacquiring him in this deal following his tumultuous first stint with the franchise. Considering he called his initial go-round "beyond trash," it's not surprising that he was waived outright this time.
The Rockets were rumored to be looking for a first-round pick for Gordon for at least a couple of years, and instead of receiving an extra one, they're going to end up swapping a pick they control for one with much higher upside.
At the time of the trade, the Bucks were 37-17 and the Clippers were 31-27. Those picks would have landed at Nos. 28 and 18, respectively, last month.
The Bucks proceeded to go on a long winning streak and are now 50-19, holding a three-game lead over Boston for the best record in the NBA. Milwaukee's 2023 first-rounder would currently land at No. 30.
The Clippers are now 36-33. Their first-rounder remains at No. 18.
However, the 34-35 Thunder only trail the Clippers by two games, and they have swap rights with the Clippers – if Oklahoma City passes L.A. in the standings, Houston would instead receive the Thunder's 2023 first-rounder.
If both the Clippers and Thunder miss the playoffs – which is certainly possible, given how jumbled the standings are – then the Thunder would receive the more favorable of the two lottery picks. Assuming the second pick falls outside of the top six (highly likely given how the NBA's draft lottery works), that pick would go to Houston, with the Clippers receiving Milwaukee's pick.
All of that is basically out of the Rockets' control. The Clippers could easily finish as high as fourth in the West or could drop out of the playoffs entirely – six teams trail them in the standings by three games or less.
Long story short, there's a chance the Rockets could receive a late lottery pick, but perhaps more likely a pick in the late teens, in exchange for Gordon and a pick in the 27-to-30 range.
Gordon was having a down season for Houston, is 34 years old, and makes $19.57MM this season (his $20.92MM salary for next season is non-guaranteed). I'm honestly surprised the Rockets were able to get as much for him as they did, given those factors.
The Rockets also created a $3.09MM traded player exception in this deal, as noted in our TPE tracker.
---
The Clippers' perspective:
Gordon is eight years older than Kennard, and it would be a little surprising if the Clippers bring him back next season on his current contract. Still, he's a better all-around player than Kennard, and the Clippers did get back three second-rounders from Memphis to somewhat offset giving up a higher value first-rounder to Houston.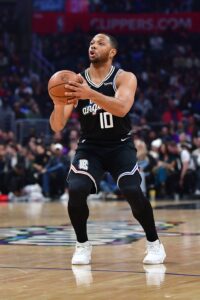 While Kennard has remained a highly efficient three-point shooter with the Clippers in '22/23, he battled a calf strain that sidelined him for significant stretches – he only appeared in 35 of 58 games. He also wasn't a major part of the team's playoff rotation a couple years ago and can be frustratingly passive on offense considering he's a minus on the defensive end – it's bizarre to see a 44.9% three-point shooter not be more aggressive looking for his shot.
Wall struggled mightily on both ends with Los Angeles, posting a .408/303/.681 shooting line (.498 true shooting percentage) while playing porous defense. Shedding his salary in this deal could be viewed as a bonus, as there were rumors that the Clippers might buy him out if they couldn't trade him.
Guard play was a major weakness on the roster, and Gordon was a necessary upgrade for a team hoping to compete for a title. Sure, the Clippers took on the most risk in this trade, but you could easily make the argument that not making changes would have been an even bigger risk – both Kawhi Leonard and Paul George can opt out of their contracts in 2024, and the team still owes unprotected first-rounders and swaps to the Thunder through 2026 as part of the George trade.
I didn't view Gordon as having a relatively down season with Houston as that big of a deal. His driving ability was still there, his true shooting percentage (57.2%) remained above average for a guard, and can you really blame him for being frustrated by the situation?
When Gordon signed with the Rockets in 2016, they were a regular playoff team that had already made one conference finals appearance (in 2015). They came very close to making the Finals in 2018, but wound up losing in seven games.
The following season, the Rockets won 53 games and were eliminated by Golden State again, after which Gordon signed an extension. They made the playoffs again in '19/20, but everything turned to dust when James Harden requested a trade. The past few seasons Gordon became the de facto elder statesman on a roster full of very young players.
That's not to say Gordon is still in his physical prime; that came when he first entered the league back in 2008 with the Clippers, the team that selected him No. 7 overall out of Indiana. A couple of significant knee injuries from 2011-12 changed that trajectory.
However, Gordon still evolved into a valuable player, leaning into his long-range shooting and quick first step to attack players off the dribble with Houston. He still possesses those qualities in his 15th NBA season.
In 10 games (25.0 MPG) in his second stint with the Clippers, he's averaging 10.1 PPG, 1.9 RPG and 2.4 APG on .447/.386/.762 shooting splits (.592 TS%). He has posted a 3.43 assist-to-turnover ratio in those contests, which is an impressive mark.
One of Gordon's strengths is that he's self-aware. He knows his job isn't to be a primary scorer anymore — it's to shoot open threes, leverage his shooting to drive and draw fouls, or kick out to open shooters. He's a smart, unselfish passer on the perimeter.
Another positive attribute that Gordon brings to the Clippers is that at 6'3″ and 215 pounds, he has a low center of gravity and a strong core, which allows him to defend forwards. Houston often ran switching schemes in the past, and he's comfortable as part of a five-out offense as well – two things that Clippers head coach Tyronn Lue favors in the postseason.
Gordon has played the entire fourth quarter in each of the past three games, all victories. I expect that to continue as the Clippers attempt to secure a playoff spot and make a deep postseason run.
---
The Grizzlies' perspective:
Memphis had the best available information on Green's recovery from a torn ACL, as he spent the majority of the season rehabbing – he had just made his season debut on February 1, eight days before the trade deadline. I'm sure the Grizzlies valued his locker room presence, but if they didn't think he could contribute down the stretch, there wasn't much to be gained by keeping him around, as his contract was set to expire at the end of the season.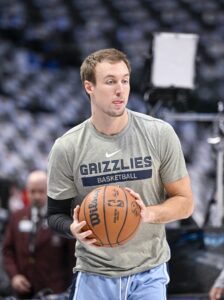 Kennard, on the other hand, is only 26 years old, nine years younger than Green. He brings a much-needed skill to the Grizzlies, who rank just 25th in the league in three-point percentage (34.3%).
The lefty sharpshooter out of Duke led the league in three-point shooting last season and has matched that stellar mark (44.9%) in 46 total games in '22/23. Kennard is also under team control for multiple seasons – he'll make $15.42MM in '23/24 and the Grizzlies will hold a team option for the same salary in '24/25.
Kennard has shown in the past that he has some play-making chops as well, averaging 4.1 APG back in '19/20 with Detroit. Through 11 games (21.0 MPG) with Memphis, he's averaging 6.7 PPG, 2.3 RPG and 1.9 APG on .404/.455/1.000 shooting splits (.611 TS%).
The Grizzlies' roster is full of players in their early-to-mid 20s, with veteran center Steven Adams the elder statesman at 29. Kennard fits perfectly with their timeline as far as that goes, and he's young enough that he could certainly improve in the coming years.
As previously mentioned, Kennard is not a great individual defender, but he does fine in team concepts and is generally in the right spots. The Grizzlies have a few excellent defensive players on the roster, so perhaps they will be able to mask some of his weaknesses.
This could be viewed as both a short- and long-term upgrade for the Grizzlies, and adding Kennard's extra salary this season (he makes $14.42MM this season vs. Green's outgoing $10MM salary) didn't affect the team much financially, as they're still well below the luxury tax threshold.
Kennard's mid-sized contract isn't onerous given his age and shooting ability. The Grizzlies could conceivably use him as a salary-matching piece in the future as well if they're so inclined.
Two-to-four second-round picks seemed to be a sweet spot for landing role player upgrades at the deadline. The Grizzlies moved three to land Kennard, but still have all of their own future first-rounders – along with one extra in 2024 – if they want to make a major trade down the line.
It's interesting that the Clippers agreed to send Kennard to a Western Conference rival, particularly one they might have to face in the postseason. I'm sure he would have a little extra motivation if the Grizzlies are matched up against the Clippers in the playoffs.