4:05pm: The Blazers released a statement confirming the news, tweets Aaron J. Fentress of The Oregonian.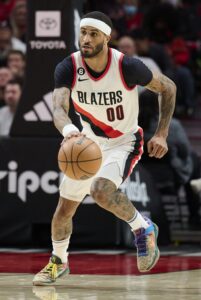 "The Golden State Warriors have decided to not pursue a grievance against the Blazers over the Payton trade. We are moving on, and glad to put this behind us."
---
3:34pm: The Warriors have decided not to pursue an NBA investigation against the Trail Blazers following the four-team trade at last month's deadline, league sources tell Chris Haynes of TNT and Bleacher Report (Twitter link).
The trade was held up for multiple days after the Warriors failed Gary Payton II's physical due to an adductor injury, but they ultimately decided to go through with it.
Payton has yet to play for the Warriors since the trade, but he is officially listed as probable for Sunday's game and he intends to play against Minnesota barring a last-minute setback, per Kendra Andrew of ESPN (Twitter links). The veteran guard will be on an undisclosed minutes restriction, Andrews adds.
Payton, who helped the Warriors win the championship in 2021/22, signed a three-year, $26.1MM contract with Portland last summer, but only appeared in 15 games for the Blazers after offseason adductor surgery. He started for Portland the day before the trade.
A formal league inquiry into the Portland's alleged failure to provide sufficient medical information was expected to be opened, but according to Haynes, the Warriors have decided against that course of action. It certainly doesn't seem like a coincidence that Haynes' report coincides with Payton's imminent return to the court.