6:00pm: A formal league inquiry into the Trail Blazers ' alleged failure to provide sufficient medical information is expected to be opened, ESPN's Adrian Wojnarowski reports. That could result in the Warriors receiving further compensation.
---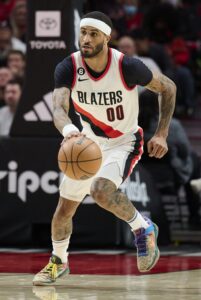 5:07pm: The Warriors have decided to go through with the four-team deal despite Payton's injury, The Athletic's Shams Charania tweets. Golden State will not pass Payton's physical exam but they've decided to move forward with the trade anyway.
All the players involved can now suit up for their teams.
---
4:45pm: The trade is tracking toward becoming official, Wojnarowski tweets.
---
1:00pm: The NBA is working with Golden State to help the Warriors finalize their four-team trade without losing their ability to pursue recourse for the way the Trail Blazers shared Gary Payton II's health information, per Adrian Wojnarowski of ESPN.
As we previously relayed, the Warriors have filed an official complaint with the league office, arguing that Portland withheld key medical information about Payton.
The reserve guard, shipped out to Golden State from Portland at the trade deadline last week, flunked a physical exam when the Warriors' medical staff discovered that his core muscle injury, which he had been playing through for a month, was severe enough it could sideline him for three additional months this season.
Reports from The Athletic and ESPN have indicated that Payton was using Toradol to relieve his pain, which the Warriors didn't know before agreeing to the trade. Agent Aaron Goodwin told Chris Haynes of TNT (Twitter link) that "despite of what's being reported, my client never took Toradol shots to be available for games during his time in Portland."
[Note: The Athletic has since clarified that Payton received Toradol doses orally, rather than via injection.]
Should the Warriors ultimately decide not to move forward with their trade, it would have a ripple effect on four clubs. Their deadline to do so is 9:30 pm ET tonight.
According to Wojnarowski, Golden State will likely move forward with the deal as long as doing so doesn't cost the team its ability to further pursue the matter. As Woj explains, an NBA investigation could result in a fine and/or lost draft picks for the Blazers if the league discovers "a failure to disclose relevant information."
The Warriors shipped out 2020 No. 2 draft pick James Wiseman to the Pistons and two second-round draft picks to the Blazers in the trade. Meanwhile, the Pistons sent out small forward Saddiq Bey to the Hawks and combo forward Kevin Knox to the Trail Blazers. The Hawks traded three second-round picks to Portland and two seconds to Golden State.
Luke Adams contributed to this report.