The Pelicans are declining their team options on Herbert Jones and Willy Hernangomez and opted against issuing a qualifying offer to Jaxson Hayes, according to reports from Shams Charania of The Athletic (via Twitter) and Christian Clark of NOLA.com (Twitter link).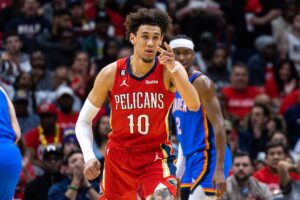 Declining Jones' $1.84MM option makes him a restricted free agent and the two sides plan to discuss a long-term contract, per Charania. The move is a little odd though, because he would have been a restricted free agent in 2024 even if the Pelicans had picked up the option.
Since he just finished his second season, New Orleans will only have Jones' Early Bird rights, so he'll be an Arenas provision restricted free agent, the same as Lakers guard Austin Reaves. It seems likely that the Pelicans have a good sense of what he might sign for by going this route, though they'll be limited in what they can offer him outright.
Jones has made a major impact for the Pelicans after being selected 35th overall two years ago, averaging 9.7 PPG, 3.9 RPG, 2.3 APG and 1.6 SPG on .473/.336/.802 shooting in 144 games (135 starts, 29.8 MPG). He's a top-tier defender, earning All-Defensive votes as a rookie.
Unlike Jones, Hernangomez and Hayes are headed for unrestricted free agency. Both centers were reserves in '22/23, receiving situational minutes but not much more.
Hernangomez, 29, just completed his seventh season, having made previous stops with the Knicks and Hornets. He averaged 6.9 PPG and 4.7 RPG in 38 games last season (12.1 MPG) and is reportedly a positive locker room presence.
Hayes, meanwhile, has mostly disappointed after being picked eighth overall in 2019, averaging just 5.0 PPG and 2.8 RPG in 47 games (13.0 MPG) in '22/23. He's still only 23, is a strong athlete, and there are a dearth of big men on the market, so he could be a buy-low candidate in free agency.