JUNE 19, 12:21pm: In addition to Beal and Goodwin, the Wizards are also sending Isaiah Todd to the Suns in the trade, according to Wojnarowski (Twitter link). Todd's minimum salary ($1,836,096) for the 2023/24 season is fully guaranteed.
As John Hollinger of The Athletic tweets, Todd is coming off a disappointing season and was no longer in the Wizards' plans, but from the Suns' perspective, he'll be a little cheaper than a minimum-salary veteran.
---
JUNE 18, 7:34pm: The Wizards are likely to include Jordan Goodwin in the trade, Josh Robbins of The Athletic tweets. Goodwin's minimum-salary ($1,927,896) contract for next season is currently partially guaranteed for $300K.
---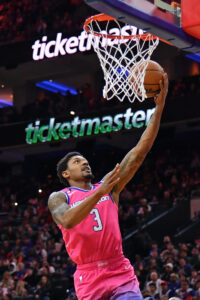 JUNE 18, 3:35pm: The Wizards and Suns have agreed to a blockbuster trade that will send Bradley Beal to Phoenix, reports Adrian Wojnarowski of ESPN (Twitter links).
According to Wojnarowski and Shams Charania of The Athletic (Twitter link), the Wizards are expected to receive Chris Paul, Landry Shamet, multiple second-round picks, and multiple pick swaps in the trade. It will likely take a few days for the deal to be officially finalized, Woj adds.
Word first broke on Wednesday that the Wizards and Beal's camp had been in contact about possible trade scenarios as the team's new front office – led by president of basketball operations Michael Winger – mulled the possibility of a roster reset.
Beal's contract, which has four years and nearly $208MM left on it, includes a no-trade clause, which gave him significant control over the process and limited the Wizards' options. On Saturday, reports indicated that Washington was in serious talks with the Suns and Heat about possible deals involving the star guard.
It's unclear whether the Wizards preferred the Suns' offer, Beal preferred Phoenix over Miami, or both. John Gambadoro of Arizona Sports 98.7 (Twitter link) hears that Phoenix was the only place Beal wanted to go, viewing it as the best fit for him and his family. However, according to Barry Jackson of The Miami Herald (Twitter link), the 29-year-old would have been happy to land with the Heat too, but the Suns were more aggressive in their pursuit.
Either way, Beal will form a new Big Three alongside Kevin Durant and Devin Booker, as new Suns owner Mat Ishbia takes another big swing following the team's deadline acquisition of Durant. A three-time All-Star, Beal will be changing teams for the first time in his career following 11 years in Washington.
"This was an extremely complicated process with so many different hurdles to get through and (Wizards owner) Ted Leonsis and Michael Winger were unbelievable partners in making this happen," Beal's agent Mark Bartelstein said in a statement confirming the agreement, per Wojnarowski (Twitter link).
One of the NBA's most prolific scorers in recent years, Beal averaged 30.5 points per game in 2019/20 and 31.3 PPG in 2020/21, but has seen his numbers dip in the past two seasons as he battled injuries and cut back on his shot attempts. In 90 games since the start of the '21/22 season, he has averaged 23.2 PPG and 6.0 APG on .480/.333/.838 shooting in 34.6 minutes per night.
With Durant, Booker, Beal, and former No. 1 overall pick Deandre Ayton all on maximum-salary contracts that run through at least 2025/26, the Suns' team salary projects to be over the NBA's new second tax apron for the next three seasons or more, limiting their ability to upgrade their roster around that core, tweets ESPN's Bobby Marks. Barring a trade of Ayton, Phoenix will have to fill out its roster this offseason by re-signing its own free agents and/or adding outside free agents on minimum-salary contracts.
Having already sent their 2023, 2025, 2027, and 2029 first-round picks – as well as a 2028 first-round pick swap – to Brooklyn for Durant, the Suns could only offer the Wizards a pick swap in 2024 and/or 2026 in addition to multiple second-round selections. Phoenix's 2029 second-rounder is the only one that was traded away in a previous deal.
Meanwhile, Winger's tenure in D.C. will begin with a cost-cutting trade of a franchise player who signed what was – at the time – the richest contract in NBA history just one year ago. Paul and Shamet are under contract through at least 2024/25, but aren't owed any guaranteed money beyond '23/24, so they're essentially on expiring contracts, while Beal would have made an average of $52MM through '26/27.
Paul's $30.8MM salary for next season is currently only partially guaranteed for $15.8MM, but that guarantee will need to be increased by nearly $10MM in order to meet the NBA's salary-matching rules.
[RELATED: Hoops Rumors Glossary: Trade Rules For Non-Guaranteed Salaries]
A league source tells Josh Robbins of The Athletic (Twitter link) that the Wizards would like to keep Paul for next season, but if CP3 decides he wants to be on a club closer to contention, the Wizards and Suns would work to expand the trade to get him to a third team. It's unclear whether Paul might be waived or bought out if he doesn't want to play in D.C. and the trade can't be turned into a three-team deal.
If he's cut by Washington, Paul would be ineligible to return to the Suns, but would almost certainly pass through waivers and be able to sign with any other team as an unrestricted free agent. The Lakers are reportedly among the clubs expected to have "strong" interest in him in that scenario.
Shamet is owed $10.25MM in 2023/24 with non-guaranteed cap hits of $11MM and $11.75MM for the following two seasons.
Having moved on from Beal, the Wizards will now face major decisions on Kyle Kuzma and Kristaps Porzingis, both of whom can become unrestricted free agents if they decline player options for 2023/24.
If Washington pivots to a full rebuild, it will have a ripple effect on the Knicks, who are owed one of the Wizards' first-round picks. That pick is top-12 protected in 2024, top-10 protected in 2025, and top-eight protected in 2026. It would turn into a pair of second-rounders if it hasn't conveyed by then.
As for the Heat, they intend to shift their focus to Trail Blazers guard Damian Lillard and genuinely believe that Lillard could seek a trade out of Portland this offseason, reports Chris Haynes of Bleacher Report and TNT (Twitter link).
Beal has a 15% trade kicker, but because he's already earning the maximum salary, it will be voided in this deal, Marks notes (via Twitter). Crucially, the guard's no-trade clause will carry over to Phoenix, so the Suns would need to get his approval if they want to trade him down the road.