JULY 16: Bazley has officially signed with the Nets, the team's PR department tweets.
---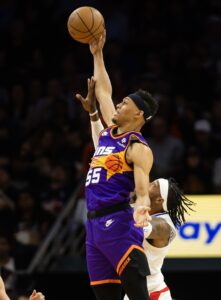 JULY 14: The Nets are signing free agent big man Darius Bazley to a one-year contract, reports ESPN's Adrian Wojnarowski.
Bazley was the No. 23 overall pick of the 2019 draft. He spent his first three-plus seasons with the Thunder prior to being traded to Phoenix at the February deadline.
Like all former first-round picks who have all four years of their rookie scale contract exercised, Bazley was eligible for restricted free agency had the Suns given him a $6.2MM qualifying offer.
They chose not to, making him unrestricted and free to sign with any team. It wasn't surprising given that Bazley had limited role with Phoenix, only appearing in seven games and a total of 61 minutes down the stretch.
Overall, the 6'8″ forward/center has averaged 9.1 PPG and 5.3 RPG on .411/.310/.673 shooting in 218 career games (118 starts, 3.6 MPG) with the Thunder and Suns. Bazley is still just 23 years old, a high leaper, and has shown flashes defensively. He also handled his inconsistent playing time last season with Oklahoma City very professionally.
Brooklyn technically hasn't used any of its mid-level exception or bi-annual exception, but I'm guessing Bazley will be on a minimum-salary deal, given the timing of it (two weeks into free agency) and the Nets' proximity to the luxury tax.
The Nets have focused on youth and athleticism this offseason, also signing Lonnie Walker and Dennis Smith Jr., two more former first-round picks.
As Brian Lewis of The New York Post writes, Bazley will fill Brooklyn's 15th and final standard roster spot for now. However, the Nets could have another spot open soon. Guard Edmond Sumner, whose non-guaranteed contract becomes fully guaranteed tomorrow after he agreed to push back the guarantee date, sent out a tweet talking about overcoming adversity.