5:18pm: Sumner and R.J. Hunter, whose deal was previously reported, are officially members of the Hornets, according to a press release.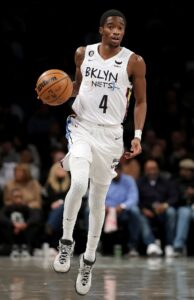 As we previously noted, the team waived three players to create roster space for Sumner, Hunter and Theo Maledon, who is back with Charlotte on a two-way deal. The Hornets are still at 21 players under contract — the offseason maximum — following the transactions.
---
4:12pm: The Hornets are signing free agent guard Edmond Sumner to a one-year contract, reports Adrian Wojnarowski of ESPN (Twitter link). Sumner will be vying for a roster spot in training camp, Wojnarowski adds.
According to Rod Boone of The Charlotte Observer, Sumner's contract will be non-guaranteed (Twitter link).
Sumner, 27, is a 6'4″ combo guard who played college ball at Xavier. He holds six years of NBA experience — five with Indiana and one with Brooklyn.
The 2022/23 season represented a comeback year for Sumner, who missed all of '21/22 with a torn Achilles tendon. He appeared in 53 games (13.9 MPG) for the Nets last season, averaging 7.1 PPG on .461/.356/.917 shooting.
The Nets waived Sumner in July before his salary for '23/24 became fully guaranteed. HoopsHype's Michael Scotto previously reported that the Hornets were interested in adding Sumner to their roster.
The Hornets' roster is currently full, and Theo Maledon is returning to the team on a two-way deal. That means Charlotte will have to release two players to make room for Sumner and Maledon.