JULY 8: The DiVincenzo signing is officially, the Knicks announced (via Twitter). "We are excited to add Donte to the Knicks family and view him as a perfect fit to the culture we continue to establish," said team president Leon Rose. "Winning is in his DNA and he will provide us with versatility, three-point shooting and defensive tenacity."
---
JULY 1: Donte DiVincenzo is headed to New York, according to Adrian Wojnarowski of ESPN (Twitter link), who hears from agent Jason Glushon that DiVincenzo has agreed to sign a four-year, $50MM contract with the Knicks. The deal won't include any options, per Fred Katz of The Athletic (Twitter link).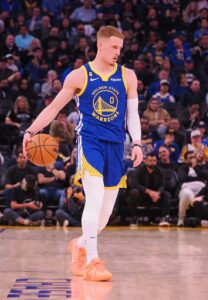 The Knicks are over the cap, so they'll sign DiVincenzo using the mid-level exception. The deal will reunite the former Villanova Wildcat with his college teammates Jalen Brunson and Josh Hart.
DiVincenzo became a free agent this week after deciding not to pick up a $4.7MM player option to remain in Golden State. The Warriors didn't have the ability to make a competitive offer for him due to CBA restrictions, so he became one of the most popular mid-level targets on the open market.
The 26-year-old appeared in a career-high 72 games, including 36 starts, in 2022/23 after signing with the Warriors. He averaged 9.4 points, 4.5 rebounds, 3.5 assists and 1.3 steals in 26.3 minutes per game. The 6'4″ guard, who made a career-best 39.7% of his 3-point attempts, also played in 13 postseason games this spring.
DiVincenzo will be another option on the wing for head coach Tom Thibodeau and the Knicks, who are finalizing a deal to trade Obi Toppin to Indiana. That move will help open up additional room below the luxury tax, allowing New York to give more of its mid-level to DiVincenzo.
According to Bobby Marks of ESPN (Twitter link), after accounting for DiVincenzo, New York's team salary projects to be about $4MM below the tax line with 14 players under contract. As a result of using the non-taxpayer mid-level exception, the Knicks will be hard-capped at the $172.3MM tax apron in 2023/24.
DiVincenzo was the No. 20 player on our list of 2023's top 50 free agents.