The Magic have waived forward/center Bol Bol, the team announced today in a press release (Twitter link).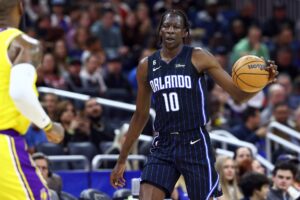 Bol had been on an expiring contract, with a non-guaranteed $2.2MM salary for 2023/24. That money was originally on track to become guaranteed if the big man remained on the roster through June 30, but he and the team agreed to push back the deadline.
The new guarantee date was Tuesday, tweets ESPN's Bobby Marks, so Orlando decided to cut Bol before locking in his $2.2MM for the coming season.
Bol's unique skill for his slender 7'2″ frame – including an ability to handle the ball – has long intrigued teams and fans, but he was limited to 53 games in Denver during his first three NBA seasons due to injuries. He enjoyed his best NBA season in 2022/23, staying on the floor for 70 games and averaging 9.1 points, 5.8 rebounds, and 1.2 blocks in 21.5 minutes per night.
While Bol's overall numbers were solid, it was a tale of two seasons for the former second-round pick. He put up 11.9 PPG, 6.8 RPG, and 1.6 BPG with an impressive .584/.361/.740 shooting line in his first 41 appearances. In his final 29 games, he scored double-digit points just three times and had averages of 5.1 PPG, 4.3 RPG, and 0.7 BPG on .447/.098/.806 shooting.
It sounds like the Magic determined after the season that Bol wasn't part of their plans going forward. According to Jake Fischer of Yahoo Sports (Twitter link), Orlando was exploring trading him around the time of the draft. The Suns and Mavericks were two teams mentioned as possible landing spots, though it's not clear if either would still have interest, Fischer says.
A team would require $2.2MM in cap room or a trade exception that could cover that amount in order to place a waiver claim on Bol. If he's not claimed, he'll become an unrestricted free agent on Thursday.
The roster move gets Orlando down to 15 players on standard contracts for 2023/24.