JULY 7: In a press release confirming that Bridges has signed his qualifying offer to return with the Hornets, president of basketball operations Mitch Kupchak and Bridges himself both put out statements.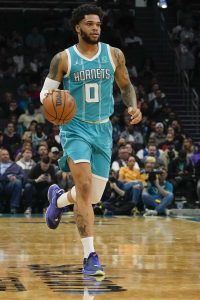 "Throughout this process, we have taken a measured and serious approach," Kupchak said. "Several factors played a part in our decision to bring Miles back, including the conclusion of the legal process, the results of the NBA's investigation and Miles' commitment to counseling and community service. Our five-year relationship with Miles has allowed for open and honest dialogue. He has shown remorse, indicated that he has learned from this situation and expressed that it will not happen again. We look forward to Miles rejoining our team."
Bridges statement reads as follows:
"I sincerely apologize for the pain, embarrassment and disappointment that last year's incident caused so many people. Time away from the game allowed me to reflect, immerse myself in therapy and prioritize becoming a better person – someone my family and peers can be proud of. I'm grateful to the Hornets and the NBA community for giving me a second chance – most people don't ever get one and I understand those questioning whether I deserve one. I will do everything I can to earn back the trust and confidence of my teammates, coaches, the Hornets organization and staff, fans, and the Charlotte community. I'm ready to return to work and can't wait to rejoin my Hornets teammates."

---
JULY 2: Restricted free agent Miles Bridges hasn't been receiving the types of contract offers he was hoping for from the Hornets, so has signed his $7,921,300 qualifying offer in order to become an unrestricted free agent next year, sources tell ESPN's Adrian Wojnarowski (Twitter links).
As ESPN's Bobby Marks tweets, signing the one-year qualifying offer would give Bridges the power to veto trades. However, if he were to approve a trade, the team that acquires him would lose his Bird rights.
Shams Charania of The Athletic hears (via Twitter) that a final contract offer was presented on Sunday before talks broke down, but he doesn't clarify whether that offer came from Charlotte or Bridges' camp — or perhaps both.
The 25-year-old forward sat out the entire 2022/23 season after facing a felony domestic violence charge. He agreed to a plea deal and was subsequently suspended by the NBA, who will require him to sit out the first 10 games of '23/24.
Prior to that incident, Bridges was viewed as one of the top free agents of the 2022 class, having averaged 20.2 PPG, 7.0 RPG, and 3.8 APG on 49.1% shooting in 80 games (35.5 MPG) in '21/22.
Leading into free agency, it was impossible to know exactly how the Hornets and the rest of the NBA would value the former lottery pick, who was selected 12th overall in the 2018 draft. As valuable as Bridges can be on the court, the repugnant behavior he was accused of away from it likely gave potential suitors pause about pursuing him to represent their franchise.
Clearly, the Hornets had the leverage in contract negotiations after Bridges missed the entire season, which made him ineligible to be signed-and-traded. None of the teams with cap room decided to pursue him, but maybe that will change in 2024 if he has a strong season without further legal trouble.
Bridges was No. 8 on our list of 2023's top 50 free agents.