JULY 6: The Pacers have officially Haliburton to his maximum-salary rookie scale extension, the team announced today.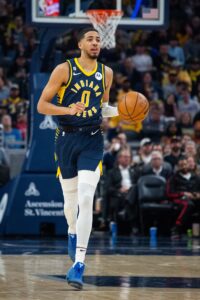 The contract doesn't feature a player option, but does have a 15% trade kicker, according to Tony East of SI.com (Twitter link), who confirms that a spot on any of the three All-NBA teams next season will bump Haliburton up to the full 30% max.
---
JUNE 30: Point guard Tyrese Haliburton is signing a five-year, rookie scale max extension with the Pacers, agents Dave Spahn and Aaron Mintz tell ESPN's Adrian Wojnarowski (Twitter link).
As a designated rookie, Haliburton will earn at least 25% of the 2024/25 salary cap, which is when his extension will officially kick in. However, Wojnarowski suggests the contract will feature Rose rule language that could boost the value to 30% of the cap over five years.
To receive the 30% max, Haliburton will have to meet one of three performance criteria next season: All-NBA, Defensive Player of the Year, or MVP. If he earns one of those honors and the cap increases by 10% in '24/25, Haliburton's deal would be worth $260MM.
The 23-year-old averaged 20.7 PPG, 10.4 APG, 3.7 RPG and 1.6 SPG on an excellent .490/.400/.871 shooting line in 56 games (33.6 MPG) in '22/23, earning his first All-Star nod in the process. The former first-round pick just finished his third season, making him eligible for a rookie scale extension.
Several draft analysts had Haliburton high on their boards, but he wound up falling to the Kings at No. 12 overall in 2020. He played very well in his stint with Sacramento, but his fit with fellow point guard De'Aaron Fox was less than perfect, particularly defensively, so the Kings memorably traded him in February 2022 for a package headlined by big man Domantas Sabonis.
The deal has worked out well for both teams. Sabonis helped the Kings break their record-long playoff drought, while Haliburton has shined in a featured role with Indiana.
Advanced stats nearly universally say Haliburton has been the top player from the 2020 draft class through three seasons. His efficiency and excellent decision-making stand out.
The 23-year-old only averaged 2.5 turnovers per game last season, good for a 4.15-to-1 assist-to-turnover ratio – an top-tier mark. Indiana went 28-28 with him in the lineup, versus 7-19 without him.
The Pacers are looking to take a step forward in '23/24, which will be the final year of Haliburton's rookie deal. They agreed to two-year, $45MM contract with Bruce Brown, who helped the Nuggets win their first championship in June, and have their eyes set on the playoffs.