JULY 7: The Rockets have officially signed VanVleet, the team announced today in a press release.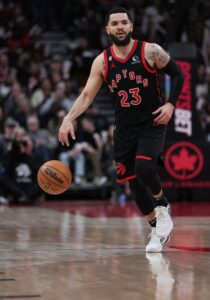 As previously noted, VanVleet's three-year deal includes a third-year team option.
---
JUNE 30: Fred VanVleet is leaving Toronto, according to Adrian Wojnarowski of ESPN (Twitter links), who hears from agents Rich Paul and Erika Ruiz that the free agent point guard will join the Rockets on a three-year, maximum-salary contract.
The No. 2 player on our list of 2023's top 50 free agents, VanVleet is the first free agent to land a max deal this summer, Wojnarowski notes. The agreement will pay him a total of $128.5MM across three seasons, including a starting salary of $40.8MM in 2023/24, which will eat up a huge chunk of Houston's cap room.
It's a massive payday for VanVleet, who began his NBA career in 2016 as an undrafted free agent on a minimum-salary contract. Over the course of seven seasons in Toronto, he evolved from little-used reserve to key rotation member on a championship team to All-Star starting point guard.
The former Wichita State standout signed a four-year, $85MM contract during his last foray into free agency in 2020, but opted out of that deal after the third year in order to secure an even larger payday.
VanVleet is coming off a down season, having made a career-worst 34.2% of his three-point attempts in 2022/23 as his defense also took a step back. However, it appears the Rockets are willing to chalk up his struggles to nagging injuries and bad luck rather than assuming it's the beginning of a downward trend. The 6'1″ guard has never been a great finisher around the rim, but he was a career 38.2% three-point shooter prior to last season and has been an asset on defense in the past.
The Rockets had more cap room (approximately $64MM) than any other team in the NBA entering free agency, putting them in position to aggressively pursue their preferred targets. While James Harden was mentioned earlier in the year as a candidate to return to Houston, VanVleet had clearly become the team's top point guard target in the days leading up to free agency.
With the Raptors doing their best to bring back VanVleet, the Rockets apparently had to tack on an extra season to the two-year, maximum-salary offer they were said to be preparing for the 29-year-old in order to secure his commitment. Even with $40MM earmarked for VanVleet, Houston still has about $25MM in cap room available to continue making moves.
Meanwhile, it's unclear how the Raptors intend to address their suddenly gaping hole at point guard. The club had spent the last year or two seeking a reliable backup for VanVleet and will now have to find a new starter too.
[UPDATE: Raptors to sign Dennis Schröder]
As Bobby Marks of ESPN tweets, Toronto could try to work out a sign-and-trade with Houston to generate a huge trade exception. However, there's no reason for the Rockets to agree to that unless they're incentivized to do so, so the Raptors would probably have to give up a second-round pick or two to make it happen.