Trail Blazers star Damian Lillard has requested a trade out of Portland, sources tell Chris Haynes of TNT and Bleacher Report (Twitter link). The team is expected to work to accommodate the request, according to ESPN's Adrian Wojnarowski and Ramona Shelburne (Twitter link).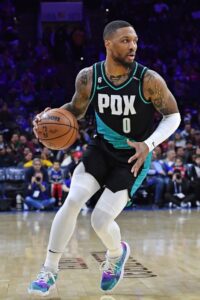 Lillard's future in Portland has been the subject of speculation for several years, as the team hasn't made it out of the first round of the postseason since 2019 and has missed the playoffs entirely in each of the last two seasons.
The seven-time All-Star, who has spent his entire 11-year NBA career with the Trail Blazers, has repeatedly expressed his loyalty to the organization and conveyed a desire to stick it out in Portland. However, Lillard – who will turn 33 later this month – has also made it clear that he wants to have a chance to contend for a championship during his remaining prime years.
Lillard spoke earlier this year about his preference that the Blazers look to build out their roster with veterans rather than prioritizing youth. So when the franchise landed the No. 3 overall pick in this year's draft, there was a sense that what Portland did with that selection would significantly influence Lillard's next move.
Rather than trading the No. 3 pick for an impact player, the Blazers kept it and drafted Scoot Henderson, a 19-year-old guard who has superstar upside but who will need some time to develop at the NBA level. Portland also reached an agreement on a five-year, $160MM deal with free agent forward Jerami Grant on Friday, but Lillard has apparently determined that the team's moves early in the offseason won't substantially increase its chances of contending in the short term.
According to Shelburne (Twitter link), Lillard considered asking for a trade when he met with the Blazers' front office on Monday, but wanted to give them every opportunity to make roster upgrades this week. He decided on Friday night to request a move, Shelburne adds.
Haynes initially reported (via Twitter) the Heat and Nets are the preferred landing spots for the former No. 6 overall pick. Vincent Goodwill of Yahoo Sports adds (via Twitter) that no other teams – including the Sixers – are on Lillard's wish list for now, though Shelburne (Twitter link) adds that he has a "deep respect" for the Spurs.
While Brooklyn could put together a competitive offer of players and draft picks, it sounds like Lillard is focused specifically on Miami. League sources tell Shams Charania of The Athletic (Twitter link) that the Blazers were told that Dame wants to end up with the Heat.
Lillard spoke to some Heat players recently about how a deal might work, tweets Tim Reynolds of The Associated Press. According to Barry Jackson of The Miami Herald (Twitter link), the star guard loves the city of Miami, is good friends with Bam Adebayo, has "great respect" for Jimmy Butler, and views the Heat as a legitimate contender.
Lillard doesn't have a no-trade clause, so he could be dealt to any team, but the Blazers likely won't want to reward his 11 years of service to the franchise by sending him somewhere he doesn't want to be. If Portland does open up the Lillard sweepstakes to other suitors, Philadelphia would have interest in exploring a deal, as would the Clippers, tweets Wojnarowski.
The Heat are expected to "vigorously" pursue a trade for Lillard, according to Jackson and Anthony Chiang of The Miami Herald. Miami was reportedly in the mix for Bradley Beal in June, but after Phoenix traded for the longtime Wizards star, reports indicated that the Heat were focused on Lillard and were willing to wait for him to ask out of Portland.
A Miami offer for Lillard would almost certainly include at least two of Tyler Herro, Kyle Lowry, and Duncan Robinson. The Heat also have at least two tradable future first-round picks (2028 and 2030) and could sweeten their offer by attaching young prospects such as Nikola Jovic or 2023 first-rounder Jaime Jaquez, or a veteran on a team-friendly contract like Caleb Martin. They could also offer multiple first-round pick swaps.
According to Wojnarowski, the Trail Blazers will prioritize young players and draft picks in their Lillard trade negotiations. In Henderson and 2022 lottery pick Shaedon Sharpe, the club already has two young potential cornerstones to build around.