The Heat have waived Jamaree Bouyea and Caleb Daniels in order to sign Jon Elmore and Cheick Diallo, the team announced in a press release. Elmore was immediately released to make room for RJ Hampton, who will take Bouyea's two-way slot.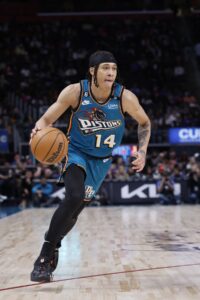 It's probably not a coincidence that Miami had all these moves lined up to be finalized after the team didn't trade for Damian Lillard. The longtime Trail Blazers star is surprisingly being sent to the Bucks in a three-team blockbuster.
A former first-round pick (24th overall in 2020), Hampton was sent to Orlando from Denver during his rookie season as part of the Aaron Gordon trade. Last fall, the Magic declined their fourth-year team option on the young guard, and his playing time was subsequently reduced.
Orlando wound up waiving Hampton after the February trade deadline and he caught on with the Pistons, but his two-year contract was only guaranteed for the remainder of 2022/23. Detroit released him in late June before his salary for '23/24 became guaranteed, making him an unrestricted free agent.
Overall, Hampton averaged 6.4 PPG and 1.9 RPG on .430/.353/.750 shooting in 47 games (16.0 MPG) last season. He has appeared in a total of 162 games with the Nuggets, Magic and Pistons over his three NBA seasons.
Still just 22 years old, the Heat will take a flier on Hampton and see if they can turn him into a more consistent player. 2023/24 will be his final season of eligibility for a two-way contract. Hampton's two-way deal will pay him $559,782 and will make him eligible to appear in up to 50 regular season contest.
As for Diallo, he signed an Exhibit 10 contract and will compete for a roster spot in training camp, reports Ira Winderman of The South Florida Sun Sentinel (via Twitter). A native of Mali, Diallo holds five years of NBA experience with the Pelicans, Suns and Pistons, appearing in 183 regular season games with career averages of 5.2 PPG and 4.1 RPG from 2016-22.
Last season, Diallo played in Japan and Puerto Rico. The 27-year-old big man was the 33rd overall pick back in 2016.
As previously mentioned, Bouyea was on a two-way deal. It's possible that he received a $75K partial guarantee as part of his contract — that's the maximum protection a two-way player can have in '23/24. Either way, that figure won't count against the Heat's salary cap. The 6'2″ point guard appeared in five NBA games as a rookie last season with Miami and Washington, both on 10-day deals.
Daniels and Elmore also received Exhibit 10 contracts, Anthony Chiang of The Miami Herald confirms, which will make them each eligible for a bonus worth up to $75K if they spend at least 60 days with Miami's NBA G League affiliate, the Sioux Falls Skyforce. Elmore, who holds some international experience, was a rotation regular for the Skyforce last season. Daniels, meanwhile, went undrafted out of Villanova in June.
As our tracker shows, Miami's roster remains at the offseason maximum of 21 players under contract, with 12 players on guaranteed standard deals and all three two-way slots filled.