9:37pm: The trade is now official, the Bucks announced in a press release.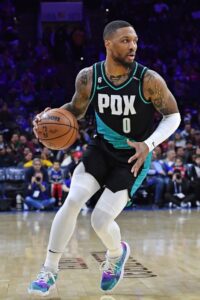 "Damian Lillard is an elite player in our league and someone we've long been fans of," said general manager Jon Horst. "These opportunities are rare and hard to measure and execute. We are incredibly grateful for this opportunity for our community and team, and beyond excited to welcome Damian and his family to the Milwaukee Bucks. His character, competitiveness, talent and experience complement our group and gives us the best chance to win at the very highest level as we create new memories together."
"These are the hardest, most human moments of this business. Jrue was unmatched in his commitment to the Bucks and the Greater Milwaukee community," Horst said of Holiday. "He's truly a champion on and off the court, and we are all thankful for what he and his family have given to our team and city. He and his wife Lauren were steadfast in their efforts to make a positive difference in the lives of so many people. Their leadership and dedication to the community has left an indelible mark and inspired the Bucks organization for years to come."
---
1:22pm: The Bucks have reached an agreement to trade for star Trail Blazers guard Damian Lillard in a blockbuster three-team deal that also includes the Suns, reports Adrian Wojnarowski of ESPN (Twitter links).
According to Wojnarowski, Portland will acquire guard Jrue Holiday and an unprotected 2029 first-round pick from the Bucks, along with the right to swap first-round picks with Milwaukee in 2028 and 2030. The Blazers will also get center Deandre Ayton and rookie forward Toumani Camara from the Suns in the deal.
In exchange for Ayton and Camara, Phoenix will receive center Jusuf Nurkic, forward Nassir Little, and guard Keon Johnson from Portland, as well as wing Grayson Allen from Milwaukee, per Woj.
The massive deal is the culmination of a saga that lasted nearly three months after Lillard requested a trade out of Portland in early July. The seven-time All-Star had spent his entire 11-year NBA career with the Trail Blazers but felt that the team was no longer moving toward championship contention following consecutive lottery seasons and sought a change of scenery.
Miami was Lillard's landing spot of choice, but reports throughout the process indicated that there was little communication between the Heat and Trail Blazers. In recent days, with the Blazers believed to be working to make a deal before the start of training camp, other Eastern Conference suitors like the Raptors and Bucks were increasingly connected to the 33-year-old.
Milwaukee ultimately emerged as the surprise winner of the Lillard sweepstakes, beating a handful of conference rivals to the punch and strengthening a core that also includes two-time MVP Giannis Antetokounmpo and standout starters Khris Middleton and Brook Lopez, both of whom signed new free agent contracts with the club this offseason.
While there have been questions about whether Lillard would be happy to report to any team besides the Heat, both he and Antetokounmpo have expressed a desire to play with one another in the past, as Chris Haynes of Bleacher Report and Alex Kennedy of BasketballNews.com point out (all Twitter links). And the Bucks should put Lillard in a better position to win a championship than he ever had with the Blazers.
Meanwhile, Antetokounmpo may not be any more inclined to sign a long-term extension with the Bucks following the acquisition of Lillard than he was earlier in the offseason, given that he would benefit financially from waiting another year. However, in dealing for another star like Lillard, the Bucks' front office proved it heard Giannis' call for the organization to be as committed to contending for titles as he is.
The Blazers, who patiently scoured the market for most of the offseason in the wake of Lillard's trade request, will come away from the deal with a pair of intriguing new players in Ayton and Holiday, though the big man is more likely to remain in Portland than the veteran guard.
According to Wojnarowski (Twitter link), the Blazers – who are focused on developing a young backcourt that features Shaedon Sharpe, Anfernee Simons, and this year's No. 3 overall pick Scoot Henderson – remain engaged in trade talks involving Holiday and could flip him to a contender for additional assets.
Holiday, who can become a free agent next summer if he turns down his 2024/25 player option, recently spoke about his desire to sign a contract extension with the Bucks, but now appears destined for a new long-term NBA home. Holiday will become extension-eligible in February, though as Bobby Marks of ESPN notes (via Twitter), he won't be able to sign a contract that exceeds the extend-and-trade limits (two new years, 5% raises) until six months after being dealt.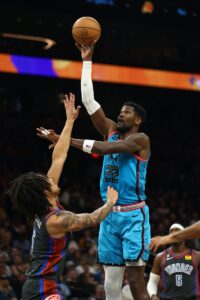 On the other hand, it sounds like Ayton will be a keeper for the Blazers, who have had interest in the former No. 1 overall pick in the past and were linked to him again within the last week. The 25-year-old had an up-and-down five-year stint in Phoenix that included some tension with former Suns coach Monty Williams, but he has averaged a double-double for five straight seasons, including 18.0 points and 10.0 rebounds in 30.4 minutes per game across 67 contests last season.
As for the Suns, they recognized that a player such as Ayton, who liked to have the ball in his hands, might not be an ideal fit alongside their new big three of Kevin Durant, Devin Booker, and Bradley Beal, and turned the young center and his $32.5MM cap hit into a series of role players on smaller contracts, including another big man in Nurkic.
Acquiring Nurkic, Little, Allen, and Johnson will make the Suns deeper and will give them more flexibility in future trades, given that their nearly all of their non-stars had been on minimum-salary contracts. However, the move creates a bit of a roster crunch in Phoenix. The club will now have 15 players on guaranteed contracts, plus Jordan Goodwin and Ish Wainright on partially guaranteed or non-guaranteed deals. At least two of those 17 players will have to be traded or cut before the regular season tips off.
While the Suns will increase their roster count as a result of this trade, the Bucks and Trail Blazers are both sending out more players than they're taking back. That's especially notable for Milwaukee, which had been carrying 15 players on guaranteed salaries prior to agreeing to acquire Lillard. The Bucks now project to have an open spot on their 15-man regular season roster, which could be used to add a backup point guard.
From a cap perspective, the Bucks will take on the biggest long-term deal in the three-team trade — Lillard is under contract for four more seasons and will earn a projected $216MM during that time, while Holiday ($36.86MM) and Allen ($8.93MM) could both reach free agency next summer.
The Blazers will owe Ayton approximately $102MM over the next three years before he becomes eligible for free agency. Camara is under contract for four years, but it's a minimum-salary deal and only the first season is guaranteed.
The Suns will take on Nurkic's three-year contract worth $54.38MM and Little's four-year contract worth $28MM in addition to Allen's expiring deal. Johnson is owed a guaranteed $2.81MM salary in 2023/24 and has a $4.47MM team option that the Suns must pick up or decline by October 31, if he's still on the roster at that point.