The Mavericks have re-signed free agent forward Markieff Morris, the team announced in a press release.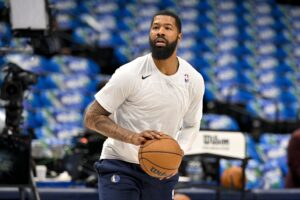 The terms of the deal were not disclosed, but given his modest role last season, it seems likely that the 34-year-old signed a one-year, minimum-salary contract. We'll have to wait and see if he got any guaranteed money, but Morris, who is entering his 13th season, would earn just under $3.2MM on a minimum deal, while Dallas would carry a $2,019,706 cap hit.
Morris was sent to Dallas from Brooklyn in early February as part of the Kyrie Irving trade. He was averaging a career-low 10.6 minutes per game in 27 appearances for the Nets and said he was looking for an opportunity for more playing time after the deal, but Morris played even less for the Mavs, averaging just 8.8 minutes over eight appearances. That average is actually inflated — he played 26 minutes in the team's final game, when Dallas was trying to lose to keep its lottery pick.
While he hasn't found much individual success in recent seasons, Morris played all 21 playoff games for the Lakers in 2019/20 when they won the championship. The longtime veteran holds career regular season averages of 10.6 points and 5.0 rebounds in 750 games (378 starts, 24.1 minutes), with a shooting slash line of .446/.343/.778.
The Mavericks waived and then used the stretch provision on JaVale McGee to free up a roster spot for Morris. McGee later signed a guaranteed one-year, minimum-salary deal with the Kings after clearing waivers.
With Morris officially signed, the Mavs now have 20 players under contract, one shy of the offseason limit. They have one two-way slot open, as our tracker shows.