The Warriors have signed free agents Rudy Gay, Rodney McGruder, Donovan Williams, Kendric Davis, Javan Johnson and Jayce Johnson ahead of training camp, the team announced on Thursday (via Twitter).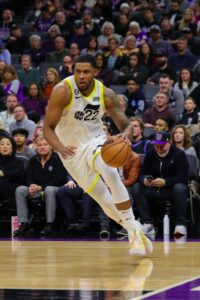 All of the deals had previously been reported except for Davis'. The 5'11" guard went undrafted in June and worked out for Golden State the month prior.
Davis averaged 21.9 PPG, 5.4 APG, 3.7 RPG and 2.0 SPG in 34 games (34.9 MPG) as a "super senior" with Memphis in 2022/23. He likely received a non-guaranteed Exhibit 10 contract, which would put him in line for a $75K bonus if he's waived before '23/24 starts and spends at least 60 days with the Santa Cruz Warriors, Golden State's NBA G League affiliate. Exhibit 10 deals can also be converted into two-way contracts, and the Warriors have one two-way opening.
A 17-year veteran forward who regularly averaged in the neighborhood of 20 points per game during stints in Memphis, Toronto, and Sacramento earlier in his career, Gay is the most noteworthy signing of the group. However, his playing time and production have declined in recent seasons, and he's 37 years old. Like all the other additions, he'll be competing for a roster spot in training camp.
McGruder, 32, is a seven-year NBA veteran, appearing in 317 regular season games with the Heat, Clippers and Pistons since 2016. The guard/forward averaged 5.5 PPG and 2.1 RPG on a .441/.412/.768 shooting line over the past three seasons with Detroit (99 games, 14.9 MPG).
Williams reportedly impressed the Warriors during scrimmages at their facility earlier this month. The former UNLV wing spent part of last season on a two-way contract with the Hawks after going undrafted in 2022.
Javan Johnson, a former DePaul forward, went undrafted in June. The 24-year-old started 33 games for the Blue Demons last season, averaging 14.2 PPG, 4.3 RPG and 2.4 APG while making 41.2% of his 3-point attempts.
Jayce Johnson, a 7'0″ center, led the NBA G League in rebounds per game last season while playing for Santa Cruz. He signed an Exhibit 10 deal and will be vying for the team's final two-way slot.
The Warriors now have a full 21-man training camp roster, with 13 players on guaranteed standard contracts.