5:10pm: The Warriors have officially signed Green and Collins, per the team (Twitter link).
---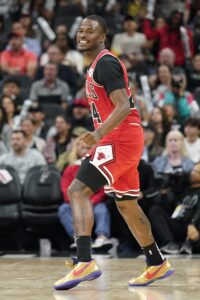 12:37pm: The Warriors plan to sign free agents Javonte Green and Yuri Collins, sources tell Anthony Slater of The Athletic (Twitter link).
To create roster space, Golden State waived Donovan Williams, Javan Johnson and Kendric Davis, according to Slater. All three players were on non-guaranteed training camp deals. The Warriors confirmed (via Twitter) that Williams, Johnson and Davis have been released.
Slater says the plan is for Green and Collins to be waived as well, with all five players expected to play for the Warriors' NBA G League affiliate in Santa Cruz. While the terms of the deals were not disclosed, Slater's reporting strongly suggests that Green and Collins will be signing Exhibit 10 contracts, which would entitle both players to a bonus worth up to $75K if they spend at least 60 days with Santa Cruz.
Green, 30, holds four seasons of NBA experience with Boston and Chicago. The 6'4″ guard/forward was limited to 32 games in 2022/23 due to a lingering right knee problem. A strong athlete and defender who is limited offensively, Green holds career averages of 5.1 PPG and 2.8 RPG on .534/.342/.753 shooting in 186 regular season contests (15.8 MPG).
Collins, meanwhile, is a 6'0″ point guard who went undrafted in June out of Saint Louis. He averaged 11.2 PPG, 10.1 APG, 3.3 RPG and 1.3 SPG on .442/.319/.735 shooting in 32 games (35.1 MPG) as a senior last season. An All-Atlantic 10 First Team member each of the past two seasons, Collins suited up for the Warriors in Summer League action.
Once the signings of Green and Collins are official, the Warriors will have 20 players under contract, one shy of the preseason limit.