Before the chair, before Grandpa Pierce, before DeAndre Jordan's infamous change of heart and the Emoji War that inspired it, there was Antonio McDyess. McDyess, obviously, but then of course French-Canadian ice hockey legend Patrick Roy, an impromptu charter flight across the southwest, dozens of unanswered pager calls and a good old-fashioned Rocky Mountain blizzard.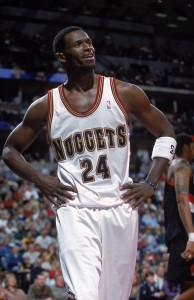 In January 1999, a 24-year-old with jetpacks for calves and long sinewy arms found himself at an emotional fork in the road. Fresh off of his third season in the NBA and his first in the desert, Suns power forward Antonio McDyess had the choice between re-signing with the team he just won 56 games with or returning to the basement-dwelling franchise that shipped him out of town less than 18 months prior.
After playing his first two seasons with the Nuggets and establishing himself as one of the most satisfyingly athletic big men in the game, McDyess enjoyed his first taste of team success following his arrival in Phoenix. The trade that sent him from Denver to the Suns prior to that 1997/98 season was precipitated by the fact that McDyess and his representative, Arn Tellem, were seeking a six-year, $100MM contract extension back when the club's front office refused to go any higher than $70MM.
"I guess they had no choice but to trade me," he said at the time, adding shortly thereafter that he didn't think there was any possible way he would return to the Nuggets when he hit free agency seven months later.
Of course it was seven months later when things got unprecedentedly interesting.