The Sixers have made it quite clear that they're ready and willing to accelerate their timeline and make a serious bid for an elite free agent. That's ambitious and admirable, but to assume that a player like LeBron James is around the corner is like buying lottery tickets to fund your retirement.
It's commendable that the Sixers have their sights set on big fish, but let's assume that the King decides to re-up in Cleveland and Philly is forced to see their original process through to the end. Sure, Ben Simmons and Joel Embiid weren't enough to win the East in their first ever playoff appearances, that doesn't mean the organization is in any less of an enviable place than they were a month ago.
In the event that Philly strikes out in their pursuit of James, they'd be wise to continue what they set out to do in 2017/18, surround their obnoxiously promising young core with solid veterans capable of helping them flourish into superstars.
J.J. Redick, SG, 34 (Down) – Signed to a one-year, $23MM deal in 2017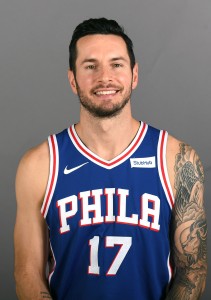 The idea to overpay Redick for a one-year contract last summer was brilliant. The team was able to complement its young core with a capable veteran scorer while getting a feel for what the next phase of the process was. It turns out the next phase involves winning, though, which involves paying to keep the club's young core in tact. Since July, when Redick signed his monster contract, the Sixers have extended both Embiid and Robert Covington, eating up $35MM in salary that they didn't need to worry about this time last. While the club still has piles of cap room for 2018/19, Philadelphia may look to lock Redick down at a discounted rate now that the roster is looking less and less like a science fair project and more like a contender.
Marco Belinelli, SG, 32 (Up) – Signed to a one-year deal in 2018
Belinelli landed with the Hawks last offseason, a hired gun on a short-term deal, and eventually became one of the buyout market's most desirable pieces. The Sixers prudently added the shooting guard in February and gave him a months-long opportunity to show what he's capable of contributing to a contender. Belinelli is still young enough to command a contract in the $8MM-$10MM range and may be able to parlay his success in Philly into a longer-term contract. That could very well put him right back in a Sixers uniform.
Ersan Ilyasova, PF, 31 (Down) – Signed to a one-year deal in 2018
There are few players who fill an unheralded role more brilliantly than Ilyasova but that hasn't helped him find any stability since getting traded away from Milwaukee in 2015. In the three years since, the veteran has plied his scrappy trade for five franchises, proving at every step along the way that he's a solid rotation piece. Unfortunately for Ilyasova, the contenders that he could benefit most tend to be the ones with the least amount of cap space, so he may need to take a discount if he wants to win.
Amir Johnson, C, 31 (Down) – Signed to a one-year, $11MM deal in 2017
The Sixers are in a drastically different place than they were when they inked Johnson, a reliable if unexciting veteran, to an eight-digit contract. For one, the win-now Eastern Conference contender need not get creative just to meet the league's salary floor and they also don't need to be quite as cautious when it comes to Embiid insurance. If Johnson wants to remain in Philadelphia – or on any serious playoff team – he may need to take a significant pay cut.
Richaun Holmes, C, 24 (Up) – Signed to a four-year, $5MM deal in 2015
Thanks to Embiid's reasonably healthy season, the Sixers didn't utilize Holmes as much as they did the year prior but that doesn't mean that they aren't still high on the athletic big man's long-term role with the franchise. Picking up his $1.6MM team option is a no-brainer.
Photo courtesy of USA Today Sports Images.