JULY 9: The Warriors have officially signed Robinson, per NBA.com's transactions log.
JULY 2: The Warriors and free agent wing Glenn Robinson III have reached an agreement on a two-year deal with a second-year player option, agent Jelani Floyd tells Shams Charania of The Athletic (Twitter link).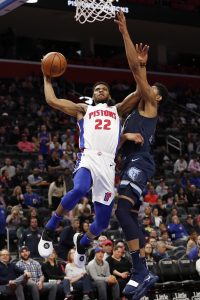 While terms of the deal aren't yet known, a minimum-salary contract seems likely, given Golden State's cap limitations. Even then, by giving Robinson a two-year deal, the Warriors would incur a 2019/20 cap hit of $1,882,867 rather than $1,620,564, pushing them ever so slightly toward their hard cap at the $138.9MM tax apron, as cap expert Albert Nahmad notes (via Twitter).
Robinson, 25, has spent time with the Timberwolves, Sixers, Pacers, and Pistons since entering the league in 2014 as a second-round pick. Last season, he averaged 4.2 PPG and 1.5 RPG in 47 games (13.0 MPG) in a disappointing season for Detroit.
The Pistons held a $4.3MM team option on Robinson for the 2019/20 season, but unsurprisingly decided to decline it.
While Robinson knocked down just 29.0% of his three-point attempts last season, the Warriors will be hoping he can recapture the form he showed with the Pacers in his previous three seasons, when he made 39.3% of his three-point tries in 137 games (albeit on just 1.4 attempts per contest).
Photo courtesy of USA Today Sports Images.