JULY 7: The Hornets have officially announced their new deal with Batum.
JULY 1: The Hornets have struck a deal with Nicolas Batum, and will bring the veteran forward back on a long-term contract, according to Shams Charania of The Vertical (Twitter links). Charania reports that Batum and the Hornets have agreed to a five-year, $120MM deal, which will include a player option on the final season.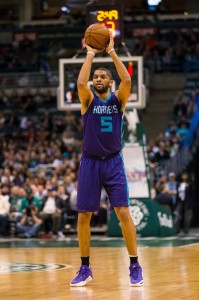 Batum, 27, would have been eligible for a maximum-salary contract worth in excess of $150MM, so it seems he was willing to settle for significantly less than that to remain in Charlotte, despite the fact that we heard earlier in the night that he was seeking a max deal.
The longtime Trail Blazer was traded from Portland to Charlotte last June, and had a nice bounce-back season in his first year with the Hornets, averaging a career-high 14.9 points per game, to go with 6.1 RPG, 5.8 APG, and 2.0 three-pointers per game.
Prior to reaching an agreement with the Hornets, Batum had scheduled a face-to-face meeting with the Mavericks in Dallas and planned to the Knicks, Lakers and Wizards via phone. It's not clear whether or not all of those conversations took place. The Lakers reportedly had Batum at or near the top of their free agent wish list.
We ranked Batum eighth on our list of this year's top 50 free agents, suggesting that he was one of the best – and most versatile – wings available. Teams that missed on Batum may shift their focus to players like Kent Bazemore and Marvin Williams instead.
Photo courtesy of USA Today Sports Images.