Hoops Rumors is looking ahead to offseason moves for all 30 teams. We'll examine free agency, the draft, trades and other key storylines for each franchise as the summer approaches.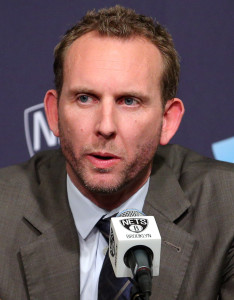 Front Office Shakeup
The Nets' youth movement isn't starting with the players. After reassigning GM Billy King in January, Brooklyn turned to 40-year-old Sean Marks, who had built a strong reputation as a coach and executive in the Spurs organization. Marks joined San Antonio in 2012 as director of basketball operations and GM for the D-League Austin Toros. He became an assistant coach a year later and was on the bench when the Spurs won the 2014 NBA title. He also won a ring with the organization as a player in 2005, so he brings a championship pedigree that the Nets need. Marks was serving as assistant GM when Brooklyn hired him away.
He takes over maybe the most daunting challenge in the league, trying to rebuild a team that won't have its own first-round draft pick for the next three seasons. An ill-fated trade with the Celtics in 2013 sent an unprotected first-rounder to Boston this year and in 2018 and gave the Celtics the option to swap picks with the Nets next season. In the absence of high picks, Marks will have to be aggressive in free agency and crafty in trades to bring talent to Brooklyn.
Rookie Head Coach
The Nets are also going with a fresh face on their bench, hiring highly regarded Atlanta assistant Kenny Atkinson four days after the regular season ended. Before joining the Hawks, the 48-year-old Atkinson spent four years as an assistant with the Knicks. He has carved out a reputation as a hard-working, well-prepared coach who is willing to devote extra time to help players develop. Despite glowing reviews for Atkinson, he will need patience from the front office as he embarks on what is likely to be a long rebuilding process.
Spending Spree?
The good news in Brooklyn is that Marks will have plenty of cap room. The only significant salaries on the books for next season belong to center Brook Lopez, who will make nearly $21.2MM, and power forward Thaddeus Young, who is due a little more than $12.25MM. Bojan Bogdanovic ($3,573,020), Rondae Hollis-Jefferson ($1,395,600), Chris McCullough ($1,191,480) and Sean Kilpatrick ($980,431) are the only only other Nets with guaranteed deals for 2016/17.
The Nets are waiting for option decisions from Wayne Ellington ($1,567,500), Shane Larkin ($1,500,000) and Thomas Robinson ($1,050,961) that could cut their cap space by about $4.1MM if they all opt in. Jarrett Jack may be waived after tearing the ACL in his right knee, with the Nets absorbing his $500K partial guarantee. Add another $5.8MM from buyouts with Deron Williams and Andrea Bargnani, and Brooklyn can expect to have somewhere in the neighborhood of $40MM to spend once July 1 arrives.
Every big-name free agent is probably on the Nets' wish list, but one name that has been mentioned prominently is Grizzlies point guard Mike Conley. Brooklyn needs someone to take over at that position with Jack's possible departure, and Conley would represent a major upgrade.
Atkinson addressed the point guard need this week with a football analogy, saying a good one is like having Drew Brees or Aaron Rodgers. He said there are "exciting names" available, but surely the list starts with Conley.
Quiet Draft Night?
That 2013 trade with the Celtics took away the Nets' first-rounder, and a deal with the Clippers gave L.A. pick No. 33, while Brooklyn dropped to 55th as its only selection on draft night.
However, the Nets had a large presence at last week's draft combine in Chicago and interviewed several top prospects, including Isaiah Whitehead, DeAndre' Bembry and Cheick Diallo. So it's possible that Marks is looking at a trade to bring Brooklyn back into the first round.
Roster Decisions
The Nets are expected to make a $1,180,431 qualifying offer to promising young shooting guard Markel Brown. The second-year pro appeared in 62 games this season, averaging 5.9 points per night. Brown's playing time was cut by coach Lionel Hollins early in the season, but his role increased under interim coach Tony Brown. They also have to decide whether to tender a $1,215,696 offer to rookie power forward Willie Reed. Point guard Donald Sloan and center Henry Sims will be unrestricted free agents, along with small forward Sergey Karasev, whom the Nets cannot offer more than $2,463,754 because they declined their option on his rookie-scale contract in November.
Pillars Of Rebuilding
Marks said this week that both Lopez and Young are in his long-term plans and he isn't trying to trade either player. Lopez has two years and $43MM left on his contract, while Young is signed at $25MM over the next two seasons with a $13.8MM player option for 2018/19. Marks called them both "teriffic" and "competitive," and they're very affordable at those prices in what is expected to be a rapidly escalating NBA salary structure.
Hope For The Future?
The Nets have been plagued by instability ever since the move to Brooklyn. Atkinson is the team's sixth coach in four years, and only Hollins lasted more than one season. Many observers believed the front office shakeup was long overdue, and now the Nets can plan for the future with a talented young GM and coach. With a shortage of draft picks, Brooklyn won't be able to rebuild in the traditional way. The franchise will need Marks' best efforts in talent acquisition and Atkinson's skills in player development. Owner Mikhail Prokhorov isn't known for his patience, but if he gives Marks and Atkinson time to succeed, the franchise could be on the right track. If not, the Nets could be back to square one in a couple of years.
Guaranteed Salary
Brook Lopez ($21,165,675)
Thaddeus Young ($12,278,652)
(Deron Williams $5,474,787) — Salary remaining from buyout via stretch provision
Bojan Bogdanovic ($3,573,020)
Rondae Hollis-Jefferson ($1,395,600)
Chris McCullough ($1,191,480)
Sean Kilpatrick ($980,431)
Jarrett Jack ($500,000) — Partial guarantee; non-guaranteed portion listed below
(Andrea Bargnani $323,599) — Salary remaining from buyout
Total: $46,883,244
Player Options
Team Options
Non-Guaranteed Salary
Jarrett Jack ($5,800,000) — Partial guarantee; guaranteed portion listed above
Restricted Free Agents (Qualifying Offers/Cap Holds)
Shane Larkin ($1,875,000/$1,875,000) — Pending player option
Willie Reed ($1,215,696/$1,215,696)
Markel Brown ($1,180,431/$1,180,431)
Totals: ($4,271,127/$4,271,127)
Unrestricted Free Agents (Cap Holds)
Other Cap Holds 
Projected Salary Cap: $92,000,000
Footnotes: 
The Nets can't re-sign Karasev to a contract with a starting salary worth more than the amount listed here because they declined their team option on his rookie scale contract.
The Basketball Insiders salary pages were used in the creation of this post.